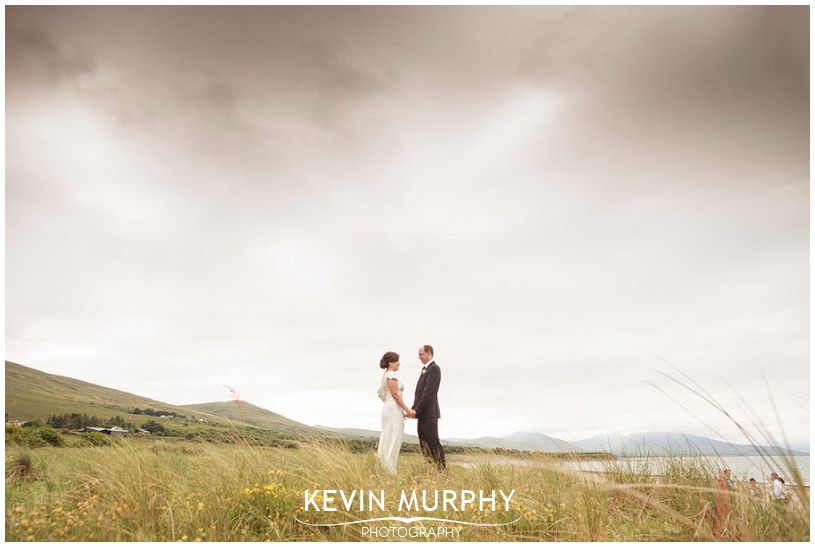 When I first met Alva and Brian they promised me they would be the most laid back couple I would ever photograph. On the day they were true to their word – relaxed and taking it all in surrounded by family and close friends. They were married in St. Brendan's church in Curraheen and held their reception in Ballyseede Castle.
On our way to their reception we visited Derrymore Strand for twenty minutes for a romantic stroll on the beach and some champagne. We practically had the beach to ourselves and the sun hid behind some clouds at the perfect time to get some lovely photographs.
Things I loved about Alva and Brian's wedding:
The fun and jokes as Brian and his groomsmen got ready that morning – I knew I was in for a good day!
How relaxed Alva was – it can be easy to get caught up in all the commotion but she didn't have a bother in the world.
The setting of the church in Curraheen – stunning. The weather was good too so the guests had a chance to mingle while enjoying the view.
How Alva and Brian married each other. Fr. Jack joined the congregation while Alva and Brian stood on their own, made their vows to each other and exchanged rings. It was lovely.
Ballyseede Castle, it's fab. It was my first wedding there and I already can't wait to get back there again. The sun was out, the gardens were in full bloom and the champagne was flowing – you can't ask for more than that!
John's best man speech. That man can tell a story! His tale of Brian's first (and last!) game as a rugby referee had me, and everyone else, in stitches!
Here are some of my personal favourite photographs to give you a taste of their day…