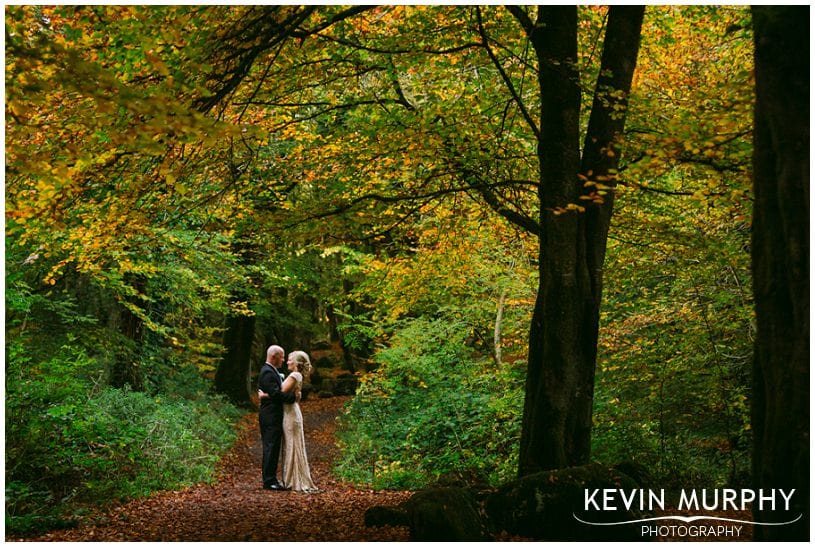 Linda and Scot met through Facebook. They had a lot of mutual friends so they ended up having each other as Facebook friends even though they had never met. Scot eventually plucked up the courage to invite Linda out for dinner. When the date came around, Linda wasn't so sure about it but her daughter convinced her to go and the rest is history. Scot, who has self confessed CDO (that's OCD but with the letters in alphabetical order – as should be!;)), took charge of organising their wedding during their trip to Ireland.
I finally met them at Glenlo Abbey after they had driven down from Dublin (carefully navigating roundabouts along the way!). We were lucky to get great weather – and we made the most of it by exploring the grounds and taking casual photographs before getting the official business under way. Scot even taught Linda a thing or two about golf! (And, as you can see below, Linda is a quick learner!) It's always a privilege to be there to witness two souls coming together – and all the more so when there were no guests – and I enjoyed every minute of it.
After the ceremony we went to a beautiful forest I had found which looked amazing with it's Autumn colours. We made a very quick visit to the beach too just as the sun was setting – it couldn't have worked out any better!
Here are some things I loved about Linda and Scot's wedding:
The grounds of Glenlo Abbey – we could have spent hours wandering around them taking photographs.
Linda sinking that 15ft putt on her first attempt! (Probably a combination of the luck of the Irish and beginner's luck! 😉 )
The virtual congregation – the Skype table where (through the wonders of technology) three iPhones and an iPad allowed member of Scot and Linda's families to join in the celebration.
The most emotional ceremony I've had the pleasure to photograph. There's something beautiful about two people travelling half way around the world to make their vows to one another.
The surprise and delight when Dermot said that he had been secretly talking to their families on Facebook and had a message for them.
Their first dance to Ed Sheeran at the altar after the ceremony.
Incorporating Scot's love of golf.
Laughing at their story about how many times their Dublin taxi driver dropped the f-bomb during a short taxi ride. Such an Irish thing!
That forest. Wow. I had found it a few weeks before and knew that in the right conditions it would look great. On the day the conditions were perfect! I love it when a plan comes together.
Making it to the beach for sunset with 30 seconds to spare! (And trying to compose the photographs so that guy in speedos wasn't in them!)
Here is a small selection of some of my favourite images to give you a taste of their wedding day…