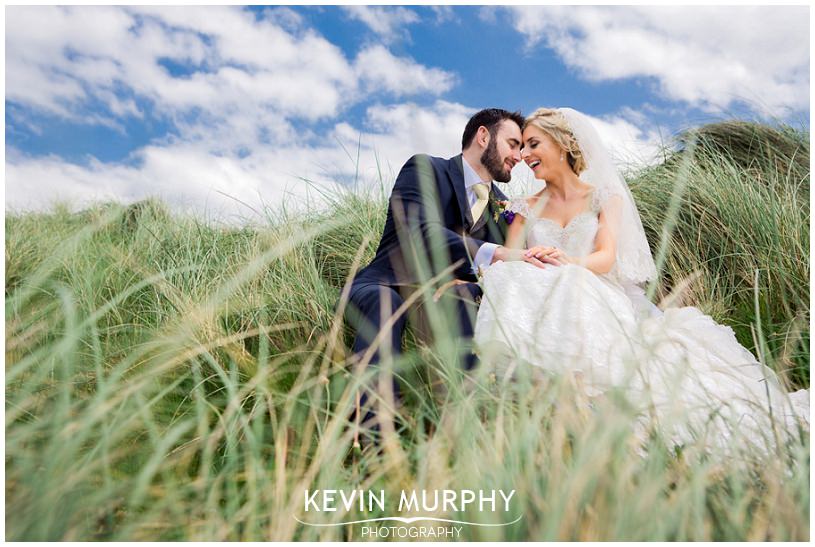 Aisling and Dave were married in the Star of the Sea church in Quilty and held their reception in the Armada Hotel in Spanish Point. It was a beautiful day, the sun was shining, love birds were chirping – what could possibly go wrong? The groom getting a vomitting bug, that's what! What are the chances? Thankfully a hero of a doctor arrived with a magic potion up his sleeve and Dave was back on the dancefloor in no time flat. Apart from that minor hiccup, it was a fun filled day with a great bunch of people.
Some things I loved about Aisling and Dave's wedding day were:
The views from Aislinn's house during hair and makeup that morning.
The flower girls giving it socks on the trampoline.
Dave and the groomsmen's local transport to the church (nothing like gorse to spruce up a tractor!)
The Kerry and Dublin flags flying high outside the church.
Just how relaxed the entire day was. It was lovely.
Having the craic in the sand dunes – and realising how drawing a heart on the beach isn't as easy as you'd think!
The winking bridesmaid. 😉
A lovely, chilled, outdoor reception – complete with ice cream, sunshine and great views.
Gino, the chef, who celebrated his last day in the kitchen with a sing song – Aisling and Dave's reaction was priceless. 🙂
That video. Top class.
The Harlem Shake first dance.
Here is a small selection of some of my favourite images to give you a taste of their wedding day…