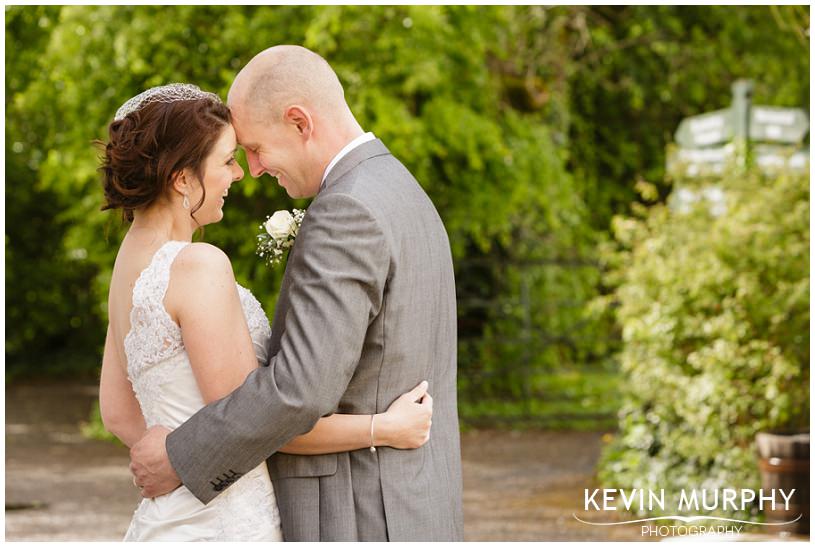 Tanya and Mark were married in Manister church and had their reception in the Bunratty Castle Hotel. The star of the show was their beautiful daughter Emmy who spent the whole day being oohed and aahed over! When I met Tanya and Mark to discuss the plan for their day they only had two requests – take loads of photographs of Emmy and don't spend too long taking photographs of them! The first part was easy – Emmy smiled every time I walked by. As for the second part, within 15 minutes of taking my first photo of Tanya and Mark in the Folk Park in Bunratty we were finished and Mark had a pint of Guinness in his hand! I think I set a new record!
Things I loved about Tanya and Mark's wedding:
The messing and craic at the house that morning. Check out some of the new Spring/Summer headpieces that were on show below! 😉
Emmy deciding to eat the mass booklet!
In an act of utter confusion, the best man tried to bless the wedding rings before the priest took over!
Finding a nice new location in the folk park with beautiful light.
The renovated reception room in the Bunratty Castle Hotel. The dark panelling has been replaced with a lovely bright finish which helps create lovely light for photography.
Tanya and Mark's entrance to the reception. It was my first time seeing the hotel wedding coordintator getting a high five on the way in!
Here are some of my personal favourite photographs to give you a taste of their day…
Despite the Severe Weather Warning from Met Eireann yesterday, the weather turned out to be perfect for Kathleen and Brian's wedding. (Which was just as well because it was an outdoor ceremony!) This photograph jumped out as I was backing up all the images last night, stay tuned for a sneak peek of their wedding…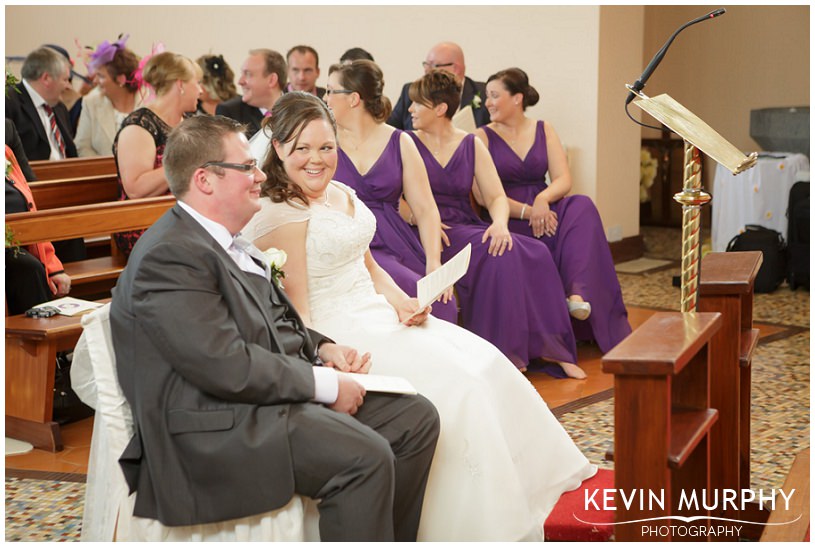 Ann and Martin were married in Coolcappa church in Co. Limerick and held their reception in the Radisson Blu hotel in Limerick. We met waaaaaaaay back in 2012 so it felt like forever for their wedding to arrive. It was worth the wait! Every meeting I've had with Ann and Martin to discuss their wedding was a lot of fun so I knew their wedding was going to be great too.
Things I loved about Ann and Martin's wedding:
The fun at Ann's house that morning. Wow! You wouldn't want to be sensitive in that house! 🙂
Martin, the blow up doll, who was still hanging around since the hen party!
Purple, hand stitched, personalised converse.
Martin walking to the church from their house just up the road.
Ann's father surprising everyone by playing his accordion during the wedding ceremony.
A flying visit by the children Ann looks after.
The Limerick / Cavan rivalry. I think it's fair to say Limerick was the clear winner this time! 🙂 Each table was named after a town you drive through on the way from Limerick to Cavan which was a clever touch.
Curraghchase. I love it in there and it was great to finally go there with a wedding party.
The speeches which brought everyone to tears from laughing!
The dancing. I think some people hadn't been left out in a while! It was like when calves get to go out into a field for the first time!! 😉
Here are some of my personal favourite photographs to give you a taste of their day…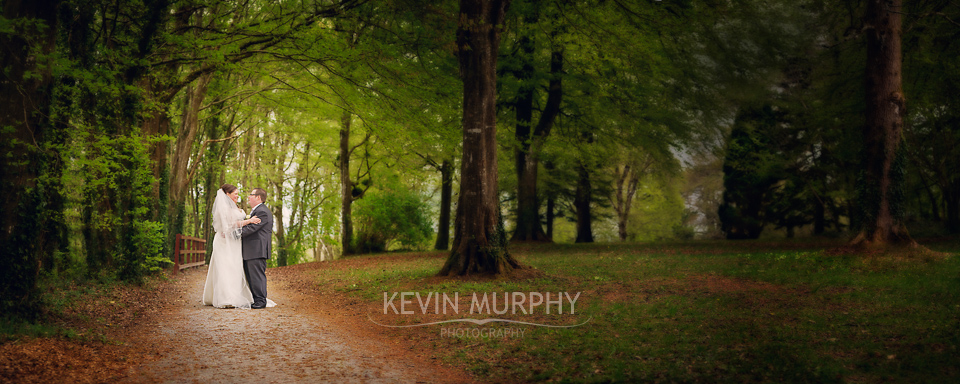 A quick pick from the fun filled wedding of Ann and Martin. This is one of the very few photographs where they are not laughing!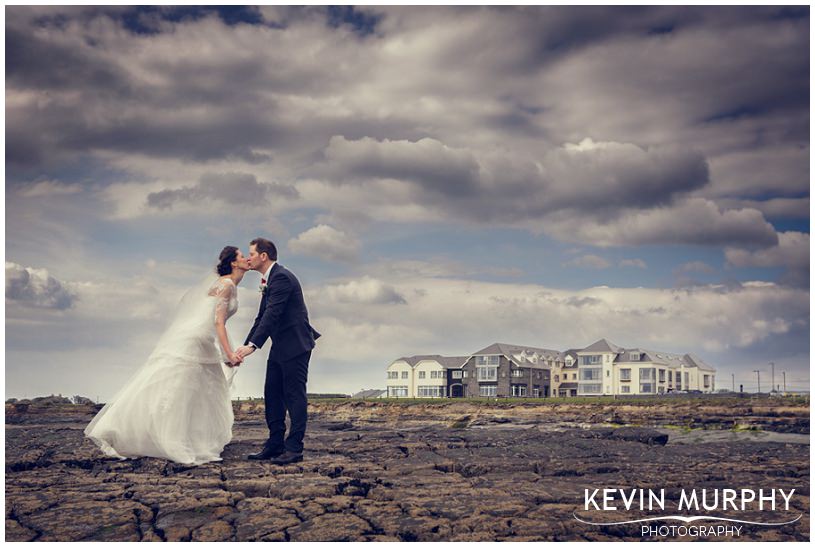 Marija and Darragh were married in the Star of the Sea church in Quilty and held their reception just down the coast in the Armada Hotel in Spanish Point. We stopped off at the beach for some photographs and we got lucky with some great light and a dramatic sky. Combine that with Marija and Darragh's movie star good looks and we managed to get some great photographs together. 🙂
Things I loved about Marija and Darragh's wedding:
The girls all got ready in the Armada that morning which was a lot of fun and excitement.
Marija's dress – wow – I'm not going to pretend I know much about wedding dresses but she looked absolutely stunning.
Darragh's reaction to finally seeing Marija at the top of the aisle.
Marija's surprise for Darragh – she organised two doves to release after the ceremony.
The location. I love the coast anyway, but it looked particularly amazing that day.
The speeches. Usually the groom's speech is short and sweet, but Darragh's was hilarious! 🙂 So was Aidan's and Marija's sister Nadezda's was so emotional and heartfelt it almost brought the whole room to tears.
The party atmosphere – everyone was there to have a good time, celebrate and enjoy themselves.
Here are some of my personal favourite photographs to give you a taste of their day…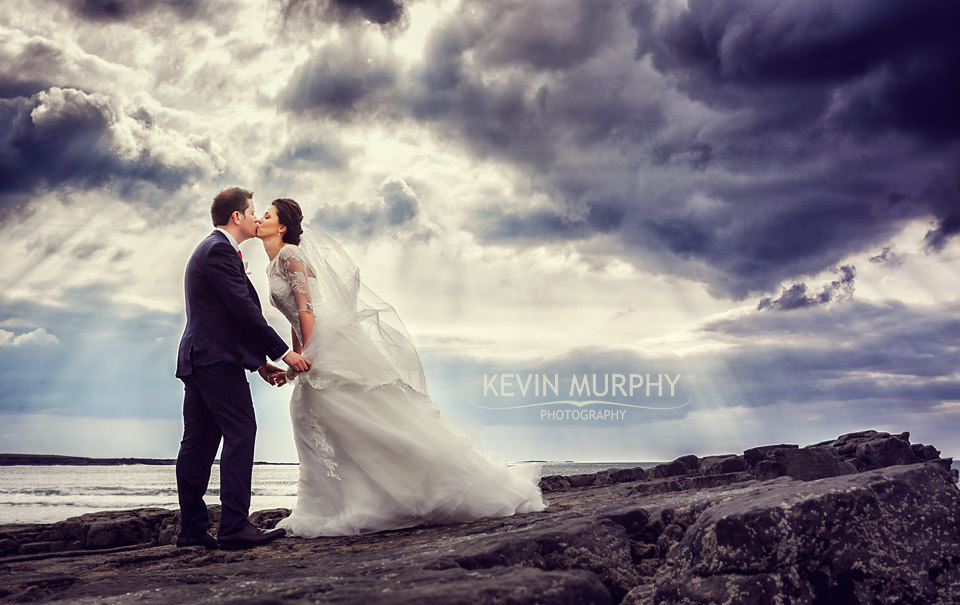 My personal favourite wedding photograph from their wedding in the Armada Hotel in Spanish Point in Co. Clare.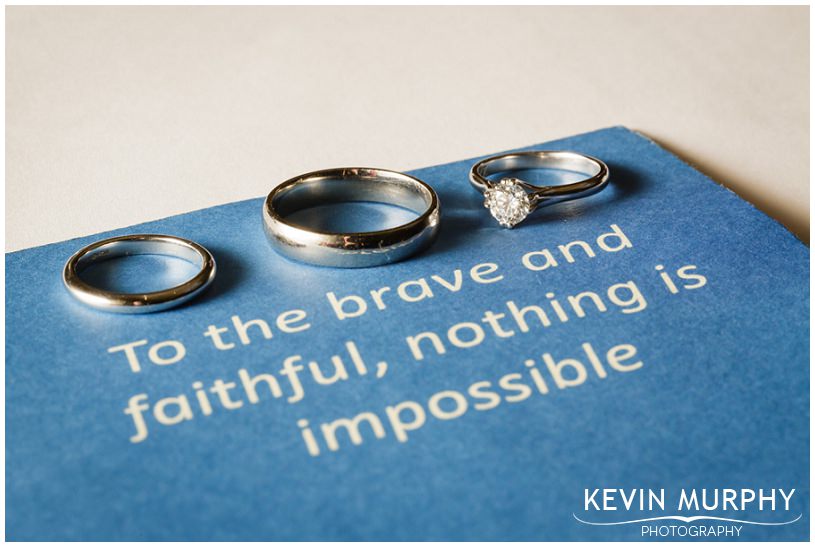 Linda and Simon tied the knot (literally) in a Humanist wedding in the Castle Oaks House Hotel on a beautiful sunny day last month. From the outset the theme of their wedding was Munster Rugby.  They are both big fans and they definitely put their own mark on their wedding. From the invites (which were designed like match tickets), to the ceremony (which had a rugby themed reflection) to the speeches (which featured a note from the Munster lads themselves) and everything in between – they made the day their own.
The wedding was on Easter Sunday – which was the day they met 13 years earlier. Not only that but there was a full moon on the night they met and this was the first full moon on Easter Sunday since. So the the stars aligned in a way!
Things I loved about Linda and Simon's wedding:
Their wedding invites which looked like a ticket to a Munster game.
How Linda's house had been decorated for the morning with everything from balloons and banners to photographs of her and Simon down through the years.
Linda's music selection – her laptop was set to shuffle and it was one great song after another.
White Converse shoes for the bride. Win!
Munster flags on the driveway up to the Castleoaks and personalised Munster champagne glasses.
How personal their marriage ceremony was – I was humming the theme tune to The Lord Of The Rings for three days afterwards!
The reflection – "…we hope that your new relationship proves to have strength and power of O'Connell, the passion of Donners, and the determination that is the trademark of the boys in red…"
The Easter egg hunt in the gardens of the hotel for the kids (and the big kids).
Managing to get down to the river for some photographs in between showers of rain.
A dancing toddler – every wedding should have one! 😉
Here are some of my personal favourite photographs to give you a taste of their day…