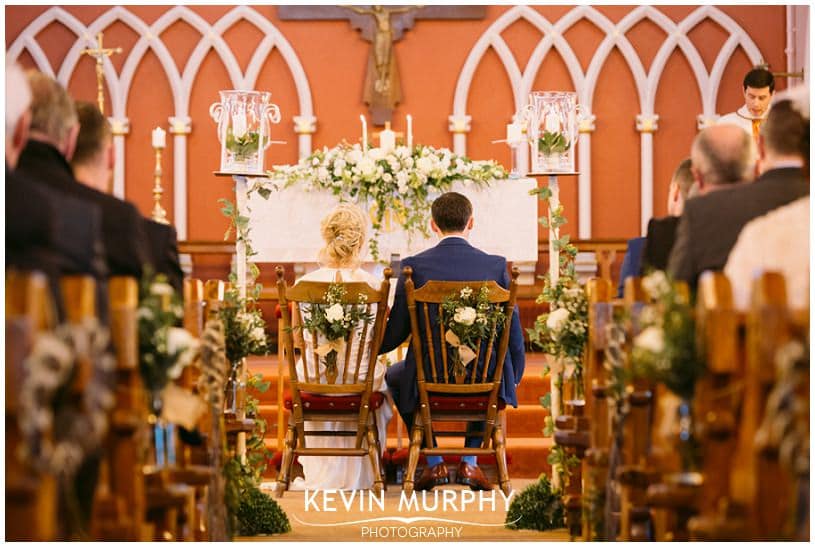 Noelle and Dave were married in Milford church and held their reception in The Malton in Killarney. I think the bridal party photo session was one of the coldest I've ever experienced, with a bitter winter wind sweeping in across the lake. But you'd never know it looking at the photographs – they seem completely oblivious to it.
Things I loved about Noelle and Dave's wedding:
Page boy Iarlaith deserves a special mention – despite constantly running away from the "photo man".
Speaking of which, his photobomb while I was taking a photo of the wedding dress is one of my all time favourites!
The flowers in the church – it was almost like being outside.
John, the best man, as he struggled to release the wedding rings from the double knot (or maybe triple?!) on the altar. Perseverance won in the end.
Noelle's brother who helped us out on during the photo session. And what an assistant – in gale force winds he was able to hold three umbrellas, four shawls, some props and STILL BE ON FACEBOOK! 😉
The groomsmen starting each other like lawnmowers on the dance floor!
The swishing and swooshing of the bridesmaid dresses – they were each given plenty uninterrupted space on the dance floor!
Some kind words from Noelle and Dave:
"You were an absolute pleasure to work with and nothing was ever a hassle to you. And don't get me started on the slide show. It was the talk of the weekend. People are still talking about how amazing it was, we were truly blown away by it. Can honestly say we feel blessed to have had you as our photographer. Thank you so much"
Here is a quick selection of just a few of my favourite images to give you a taste of their wedding day…