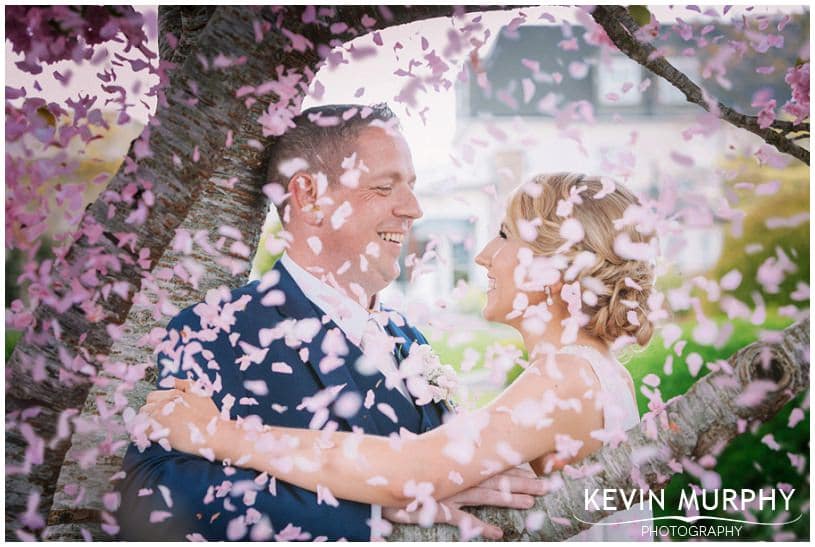 Niamh and Damien were married in Feohanagh church and held their reception in Ballygarry House in Tralee. Other than some roa dworks and a bit of a traffic tailback, the day went really smoothly – which was to be expected from a couple who are as organised as these two. I heard that the ribbons were put on the cars the night before the wedding! Usually that's a last minute scramble with a scissors and search on YouTube! 😉
Things I loved about Niamh and Damien's wedding:
I was passing by Damien's house so I got to pop in there for some photographs of the guys getting ready. The driveway was like a starting grid!
Niamh's house that morning was a hive of activity. The kids were very excited, especially the flower girls.
The constant smile on the page boys face for the entire day – he must have been training those smiling muscles for months!
Cherry blossom trees in full bloom – 100% natural biodegradable confetti! 😉
The tea party drinks reception.
The one and only time in my life I will ever take a photograph of a groom wearing underpants outside his suit holding a happy meal.
The best collection of embarrassing photographs ever collected for a speech!
Some kind words from Niamh and Damien:
Thank You doesn't even cut it… an absolute professional & a dream to have you photograph our wedding. You put us completely at ease, we enjoyed every minute!
Here is a quick selection of just a few of my favourite images to give you a taste of their wedding day…