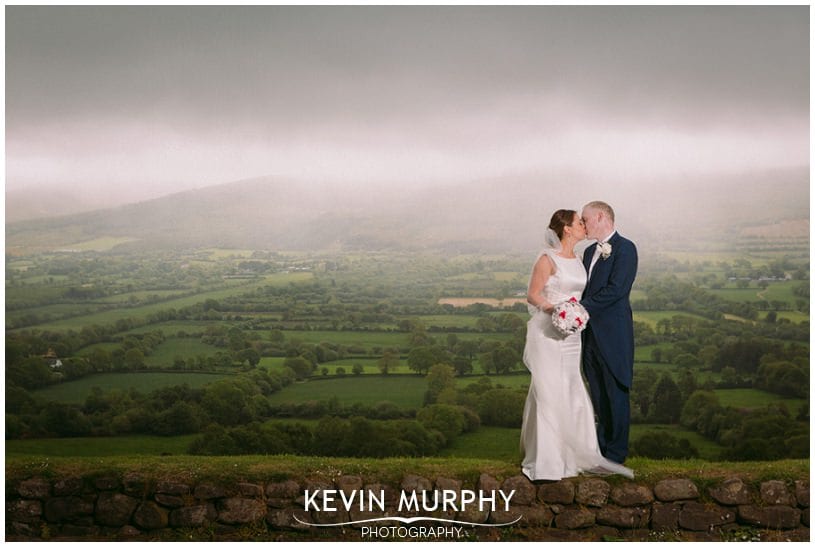 Aisling and Ryan were married in Emly church and held their reception in Ballykisteen Hotel. It was a day full of happiness and a lot of laughter – and unfortunately a lot of rain as well! We were unlucky that every time we went about taking photographs outside it started raining – but big thanks to the bridal party for putting up with it for a few minutes as we passed the Glen of Aherlow, it was worth it!
Things I loved about Aisling and Ryan's wedding:
The engineering challenges of a wedding day were well taken care of – stabilising mirrors using cans of Guinness, adding extra holes to a belt using a screwdriver and opening a bottle of champagne with a child's safety scissors. (I'd imagine if McGyver was getting married he would have similar challenges!)
Aisling's brooch bouquet.
Aisling's dad's sense of humour – they had cooked a big fry that morning and he offered me a sausage, "or maybe you'd like something stronger? A rasher?!" 😀
The role reversal as Aisling's brother and father cooked a big breakfast while her mother put ribbons on the car.
The fear of yawning in the church! 😉
Ryan's now famous chat up line to Aisling – "Do you like my new phone? It's got everything on it – except your number".
Line dancing!
Some kind words from Aisling and Ryan:
Ah Kevin thank you so much for everything!

You absolutely made our day… it's the first time I've ever heard gasps during a slideshow!! We were getting comments all night about the amazing photos you took – even more fantastic considering the challenging weather conditions you faced.

We couldn't have wished for better – you were so professional, and great craic too, really made it so stress free for us, and I'm delighted as we will have amazing photos to remember our big day by.

Kevin, thanks again for absolutely everything, you are amazing!
Aw shucks! Here is a quick selection of just a few of my favourite images to give you a taste of their wedding day…