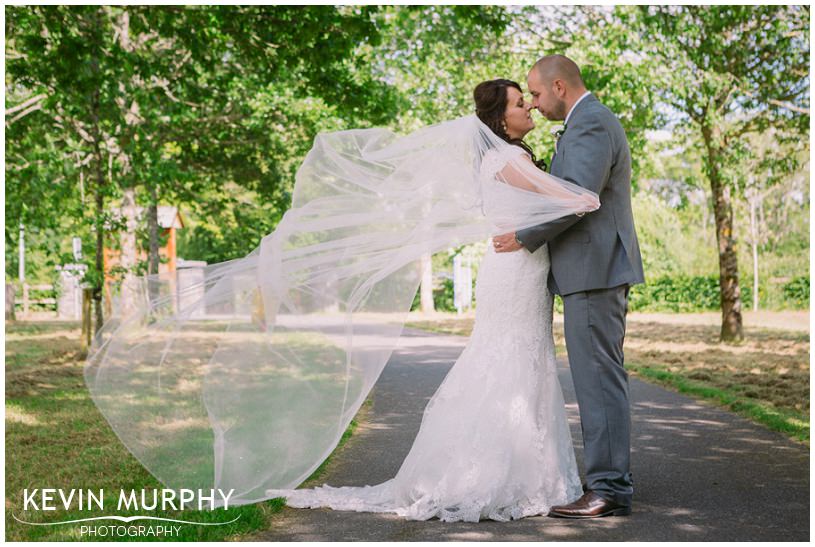 Caroline and Kenneth were married in Ardagh church and held their reception in the Devon Inn Hotel. It was a wedding that was years in the making – and they certainly made use of that time with loads of personal touches throughout the day which made it all the more emotional.
Caroline and Kenneth met (romantically) when they shared a snack box in Superbites after a night out! (It reminds me of that scene in Lady and the Tramp when they share a plate of spaghetti!)
Things I loved about Caroline and Ken's wedding:
The t-shirt Caroline gave Ken as a gift that morning.
Their wedding car, a 1986 Ford that Ken has worked hard on restoring.
Witnessing the art of tying a tie backwards, then taking it off and putting it back on so that it's facing the right direction! Magic.
Zack the dog in his tux and top hat.
The treasure hunt Ken sent Caroline – it was very emotional – just like the gift boxes Caroline had prepared for her bridesmaids.
Ken's second baptism. 😉
The heart signing frame Ken made for the reception.
Brian (the best man) comparing the bride to their vintage car. It could have all gone terribly wrong – but it was genius!
Here is a selection of just a few of my favourite images to give you a taste of their wedding day…