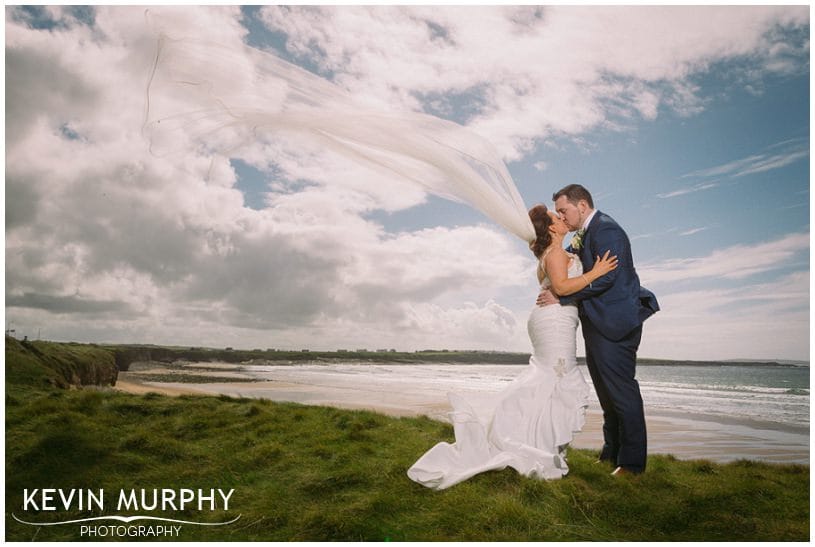 Where do I even start with Alison and Jamie's wedding?! Maybe describing one conversation with a random guest will sum it up. So, to set the scene, it was late in the night. I had photographed the first dance along with a good selection of random dance floor madness. I was just about to start packing up my equipment when a random, anonymous guest came along to give me some advice…
GUEST: "You should stick around for another little while – we've got a surprise planned for Alison and Jamie.."
ME: "What kind of a surprise?"
GUEST: "A gang of us have been rehearsing a flash mob dance."
ME: "…"
GUEST: "One of the guys is going to dance wearing just a nappy…"
ME: "I'M NOT MISSING THAT!"
So you've been warned – be prepared for something you will never unsee if you scroll all the way down to the dancing! 😉
Alison and Jamie were married in the Star of the Sea church in Quilty and held their reception in The Falls Hotel in Ennistymon.
Things I loved about Alison and Jamie's wedding:
The amount of effort they had put into their wedding – from personalized drinking glasses to sweet jars, fairy light decor to refresher baskets in the bathroom. Their personalities were everywhere.
Coming up with a safety word with the bridesmaids!
The locket in Alison's bouquet.
The groomsmen tuning up for the bride's arrival.
The late-for-the-ceremony walk-of-shame gang!
The laughter. It was one of those weddings that was great fun from start to finish. It was very obvious that Jamie and Alison have a very close-knit group of great friends.
The dance floor. Wow. Jamie and Alison met while putting on a musical production so their musical friends kept the dance floor packed – and it was quality. I've never been at a wedding where the men outnumbered women on the dance floor before! 🙂
THAT dance.
Here is a selection of just a few of my favourite images to give you a taste of their wedding day…