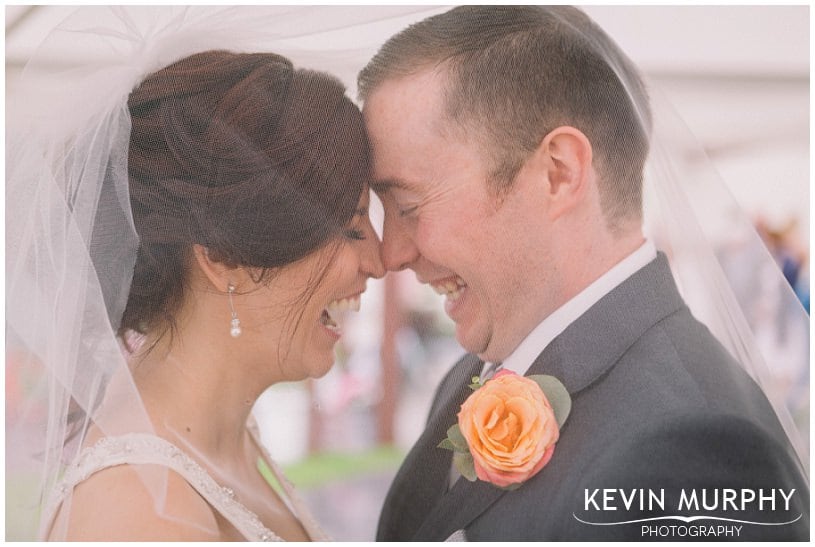 As with all weddings, the first thing I did that morning is check the weather forecast. Yellow Weather Warning. Again. It's been one of those "Summers". It was accurate too – it never stopped raining. All. Day. Long. We made the most of it though. Louise and Mark were married in Hotel Doolin in a humanist ceremony and held their reception in the marquee at the back of the hotel. Apart from a 6 foot dash between the hotel and the marquee nobody needed to go outside which was good. In a way, the rain helped to keep everyone together too – so there was great banter and mingling going on.
There was one specific photo Louise and Mark wanted – with Doolin Castle. Unfortunately, with the constant downpour it was not meant to be – but I did McGyver something together by taking a photo of the castle that morning and projecting it onto Louise and Mark during their reception for the fun of it. However, I had an even better idea afterwards – stay tuned for that…
The craic was mighty and the weather didn't put a damper on the party – in fact it was so good that they managed to blow a fuse during Galway Girl! Big thanks to the locals around Doolin too – all the rain meant there was flash flooding everywhere – which made it almost impossible to get home in the dark. Thankfully the locals had blocked off flooded roads and were actively helping people get home. Phew!
Other than the weather (and that veil incident!) here are some things I loved about Louise & Mark's wedding:
The constant surprises. Everyone was in cahoots about something or other – I was afraid to open my mouth! Robbie, who travelled all the way from Australia in secret, a surprise gift for Mark, a secret gift delivery for Louise, an unknown but meaningful exchange during the ceremony, it definitely kept me on my toes.
The play lists – every part of the day had a different play list. And the selection was quality stuff- it was like listening to my own iPod.
Mark's quick thinking during a candle lighting malfunction!
A flutterfetti exit (I'm still finding bits of it).
The festival atmosphere – helped in no small part by the lovely set-up at Hotel Doolin but also by the relaxed, festive mood of the guests.
The travel theme which was incorporated in everything from the music to the cake,  the table plan to the tables themselves.
Mark's recounting of how they met – from the illegal international apple smuggling through to hitching a ride to Auckland that took 7 days to meet Louise again.
Eanna's email from Louise with speech guidelines.
The cake – featuring little Lou and little Mark (who hasn't been seen since!)
Louise's dancing shoes.
Here is a selection of just a few of my favourite images to give you a taste of their wedding day…