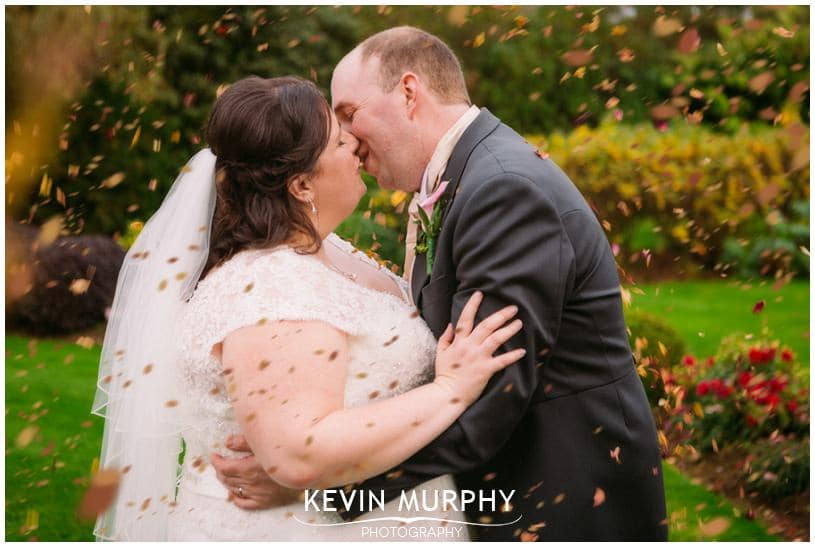 Alison and John were married in Ogonelloe church and held their reception in the Lakeside Hotel Killaloe. I don't know where to even start in summarising their wedding day – there was so much going on and such an incredible amount of thought and effort put into it that it's can't be condensed into a paragraph. John is hands down the most romantic groom I've ever met – I would put every man to shame if I listed everything he did in the run up to the wedding. However, one thing that stands out is presenting his future bride with golden envelopes in the lead up to the big day (along with a bonus golden envelope on bank holidays!) which contained gifts and surprises – culminating in a once in a lifetime experience when Alison gets to feed penguins on their honeymoon. Incredible! Between them they make the dream team for not only coming up with great ideas but making them happen. I'd love to have their wedding day all over again – it all went by too fast.
It was also my first double wedding – not only did Alison and John get married, but the bears decided to tie the knot too! 😉
Big Lesson Learned: Dried, pressed leaves do NOT make good confetti! 😉 (However, if you ever need to hit someone in the face with a huge quantity of leaves in the shortest time dried, pressed leaves are the way to go.)
Here are some things I loved about Alison and John's wedding:
Hanging out with John and the groomsmen for a little while that morning – what a great bunch of lads. From emotional cards and personalised gifts to one man's determination to grow his hair until he's walking on it to drinking empty pints – it was great craic!
Turning up to the bride's house to find her dressed as a penguin (of course), complete with beak and flippers, harassing her neighbours with trick or treat.
Lucky, the camper van.
The nervous look on Ted Bed Glynn's face as he waited anxiously at the top of the aisle for Lucy Lilly Glynn. 😉
Fr. Chris delivering an epic sermon (as always). As he said himself he was spoiled for choice with these two – but in the end his tea towel inspired (pillow slip) Winnie The Pooh quotes were brilliant.
Dan's MC skills – he would give Mr. Motivator a run for his money! 😀
A Lord Of The Rings sword to cut the cake (and randomly knight people when they weren't looking!).
Personally carved pumpkins on each table, as well as a chapter from their story.
Alison and John presenting a mini birthday cake to their guests who had celebrated big birthdays that year which they had missed.
The surprise choir.
Alison's dancing shoes.
Here is a small selection of some of my favourite images to give you a taste of their wedding day…