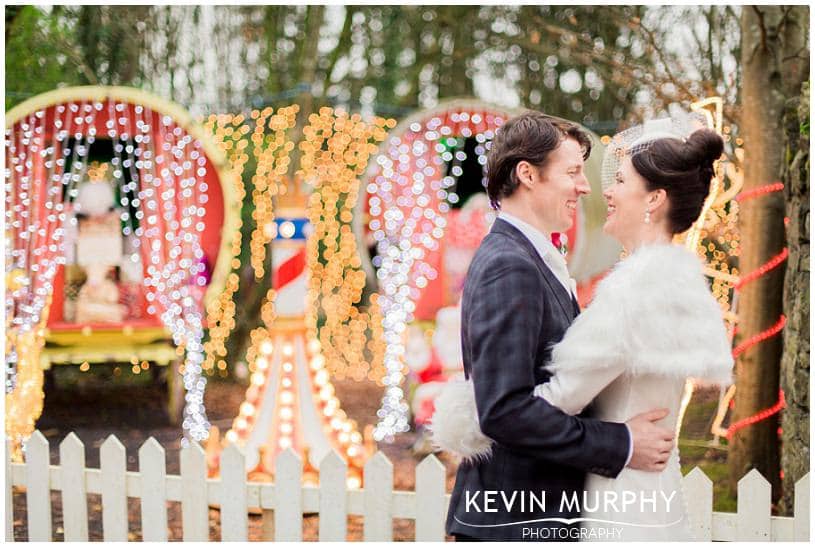 Aisling and Brian were married in Cratloe church and held their reception in the Bunratty Castle Hotel. From the very first meeting, I knew this wedding was going to be a good one. Aisling loves Christmas so that set the tone for the planning – and it ended up being the Christmassiest of Christmas weddings! 😉 From being walked up the aisle by Santa Claus himself, through to having snow during the photographs and even picking up an elf along the way!
Here are some things I loved about Aisling and Brian's wedding:
Hanging out with the girls as they got ready in Altamoda – I loved the unusual hair styles and headpieces.
Quickly visiting Brian and the guys as they got ready in the Old Ground Hotel. I think most of the time I was there was spent figuring out how to attach the pocket watch! (What did people do before they could google it?!)
Due to Brian splashing out on his wedding suit there needed to be cutbacks – to the sleeves of Fintan's suit! 😉
Watching two people who had never boiled an egg try to figure out how to boil an egg! 😉
Morgan – what a star.
Carrots for Rudolf at the door of the church.
Being walked up the aisle by Santa Claus himself!
The most emotional reflection I've ever heard. There wasn't a dry eye in the church.
Going to the folk park with the bridal party was so much fun. It was in full festive mode which fitted the wedding theme perfectly and Aisling and Brian were like celebrities (or princesses) to the children there who randomly gave them high fives and waves as they passed. AND we got snow! Perfect!
Aisling leaving her wedding bouquet on her mother's grave.
Santa showing up every time anyone turned their back – when they rang the bell for the meal I heard someone saying "here comes Santa again"!
The "Aherne Team" entrance music.
Brian handing Aisling a sick bag for the emotional part of his speech – and proceeding to mortify her! 😉
THAT first dance.
Some kind words from Aisling and Brian…
Where do we start?!!  Thank you so much for all your help and advice in making our wedding day so special!  From the moment we met you, we knew that you would be a pleasure to deal with.  Even though we were expecting a professional and courteous service, you met our high expectations and exceeded them.  We cannot thank you enough.  I still cannot believe the magical moments you captured for us in the Folk Park.  I knew it would be a special place, but my gosh, you had everything researched and your attention to detail and creative eye will make for the most fabulous images and memories we will cherish in the years to come.  We were so thrilled with the slide show, which was one of the highlights of the reception.  We are so delighted to have met you and had you to capture what was the best day of our lives.
Here is a small selection of some of my favourite images to give you a taste of their wedding day…