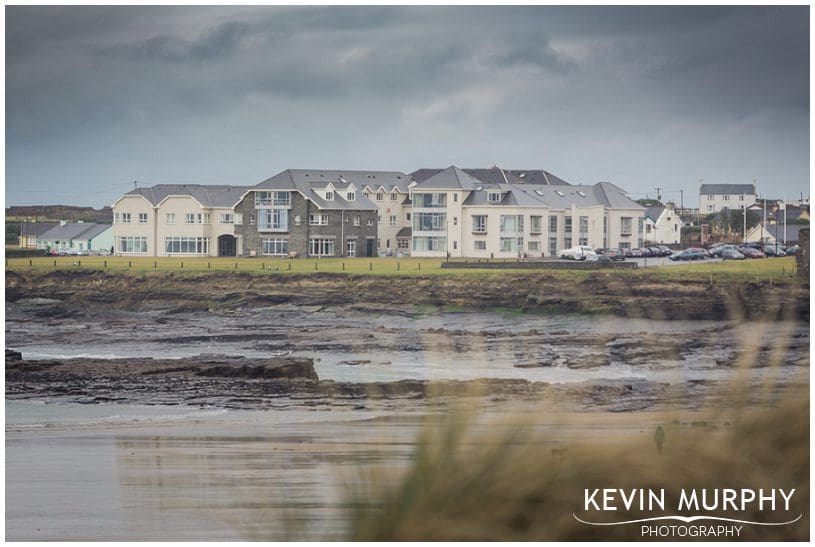 Leeanne and Ciarán got married during a humanist ceremony at the Armada Hotel in Spanish Point – overlooking the beach where Ciarán had proposed just a few months earlier. Unlike the proposal, the weather was grey, wet and windy so unfortunately we didn't get to do down onto the beach but everyone made the most of it and the guests were only too happy not to have to leave the comfort of the hotel! 🙂
Some things I loved most about Leeanne and Ciarán's wedding day were:
The view from Joanne's house that morning where Ciarán was getting ready. Breathtaking.
The customised wooden box for their wedding rings.
How relaxed the bridal preparation was in the hotel. If it wasn't for the fact that she was getting married, I think Leeanne would still be lounging around drinking tea and enjoying the view!
Leeanne's dad's reaction to seeing her in her wedding dress. Thankfully her mother had tissues at the ready. 😉
Both mothers lighting the individual candles during the ceremony.
Aisling, Ciarán's niece, doing the hand fastening.
Making the most of the hotel to get some great photographs without getting wet. (Well, I got wet, but at least Leeanne and Ciaran stayed dry!)
Their wish jar.
Having fun on the "swing" in the bar. 🙂
The chocolate favours which were made by Leeanne herself.
Here is a small selection of some of my favourite images to give you a taste of their wedding day…