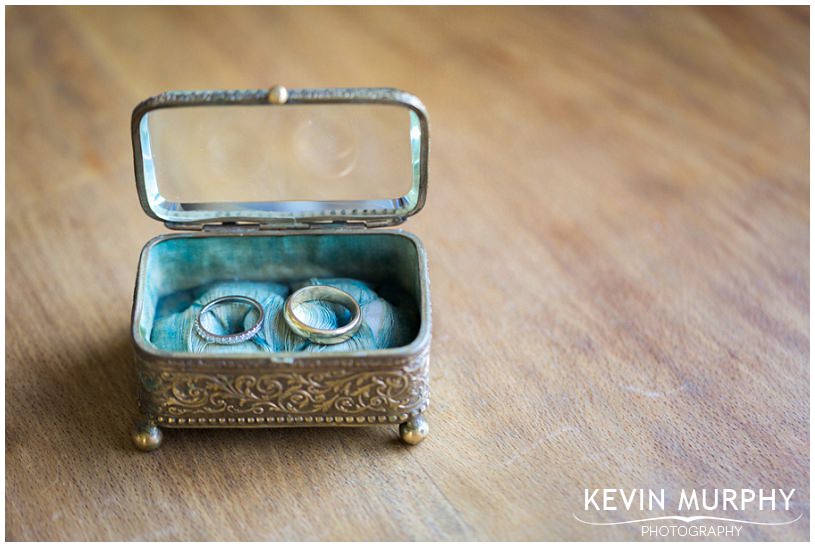 Niamh and David was a marriage of coincidences. They held their reception in the Dunraven Arms in Adare – the same place both of their parents had their reception AND those two receptions were just two days apart. The priest that married them also married Niamh's parents as his first wedding. One of the bridesmaids, Helena, got married 3 weeks later – not only to another David, but one born on the same day! Niamh and David met at work – where Niamh is now the David's brother Robert's boss. The list goes on – it was obviously meant to be!
Some things I loved most about Niamh and David's wedding day were:
The antique ring box.
Niamh's parents had their own wedding album out that morning – it was so nice to see everyone looking through it.
The flowers – including one of the most intricate arches I've ever seen. (by Carraig Flowers)
Kevin – the coffee king! (What skills he lacks in tying a tie he makes up for in making coffee. Although to be fair, the mirror he was using to tie it was mostly to blame!)
Speaking of Kevin – I don't know how many times I heard my name being called in Niamh's house that morning and I went into the room I was called from only to be completely ignored when I got there! Wrong Kevin. In the end, to avoid confusion, everyone started using my formal name – Kevin D. Photographer. 😉
Emma's poetic reflection.
Replicating their trade mark yoga pose on the golf course.
Their golf buggy grand entrance – and their entrance to the meal, I've never seen such excitement!
John's speech – especially those embarrassing, cringy photographs – I cracked up at the Moone Boy one!
Here is a very small selection of some of my favourite images to give you a taste of their wedding day…