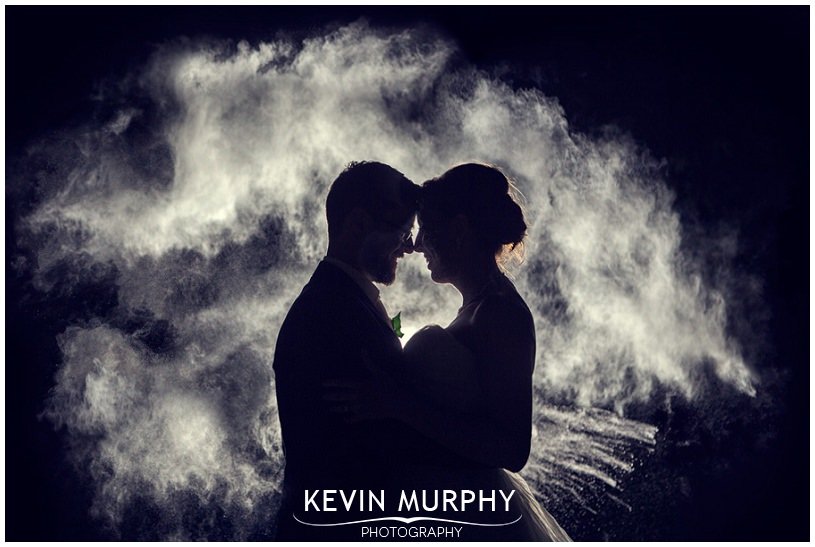 Hazel and Garett were married in the Holy Trinity Abbey in Adare and held their reception in the Woodlands House Hotel. It was a wedding I had been looking forward to for a while. Every meeting I had with them was good fun so I figured the wedding would be great altogether! And it was. I arrived to the most relaxed bride and bridesmaids ever! Hair and makeup was done and dusted a good three hours before the ceremony so they were sitting around playing games. What a great start. After a game of dare Jenga, it was the longest game of Snakes & Ladders I've ever witnessed. So long in fact that after Christine won, she eventually got bored and started again and won a SECOND TIME before anyone else managed to finish. (I always though Snakes & Ladders was just a game of luck until I saw it played by such a pro! ;)).
When I went to the church to meet the lads, I found them gather around a Delorean – why not?! A quick drink in Auntie Lena's and it was time to get down to business.
There was so much to love about their wedding – the red shoes, the "something old" (a thumbs up from one of Nana's dress gloves), the American version of I'm a Little Teapot, Hazel's embroidered hankie for her dad (and his reaction to it), the open top wedding car, the groomsmen mix and match socks, the outdoor reception in the Woodlands, the €20 toilet paper, Briain's directorial debut, stick on eye balls, getting the dancing started before the band had even set up – I could go on and on – it was epic.
Here is a very small selection of some of my favourite images to give you a taste of their wedding day…