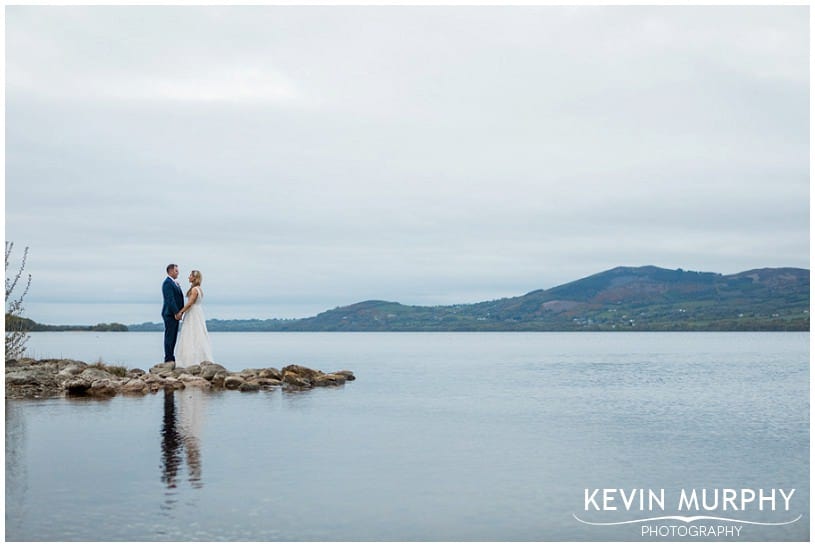 Emer and James met after the Great Limerick Run and got married exactly 6 years later. Emer had completed the run and was out celebrating – it turned out she picked up an injury so she went to find a seat and instead found her future husband! James on the other hand found someone to talk to that wasn't able to escape! 🙂
Their sun soaked wedding day in AnnaCarriga was full of fun and personality and quirkiness. They had their wedding ceremony on the lakeside under the trees, partied outside to the music of a mariachi band and had their reception and danced the night away in the marquee.
Some things I loved about Emer and James' wedding day were:
The quirkiness of Emer's house that morning. A stuffed monkey? A room dedicated to tigers? Yes please!
The craic with Emer and her bridesmaids as they prepared for the big day.
The weather and the setting for their wedding – it was like being in another country.
Freddy, Emer and James' dog, who was possibly the best dressed at the wedding.
Maracas for all the guests to shake during their first kiss and huge Señor and Señorita sombreros.
A surprise mariachi band to walk them down the aisle.
The lawn games – and the most competitive game of Connect Four I've ever seen! 🙂
The Snug Photobooth – always a big hit.
Surprising Emer and James with bib numbers from the Great Limerick Run and having a race along the lake.
The 3 amigos dance routine!
The shenanigans on the dancefloor – and twins doing the floss dance!
Some kind words from Emer and James…
Thank you so, so much for being such a fantastic photographer on the day. You really went above and beyond. Really appreciate you getting those race numbers. Such a nice touch and made our day, the photo is brilliant! Thanks again for everything and so excited to see all of the photos.
Here is a small selection of some of my favourite images to give you a taste of their wedding day…