Advise, Tips, Cancellation Policy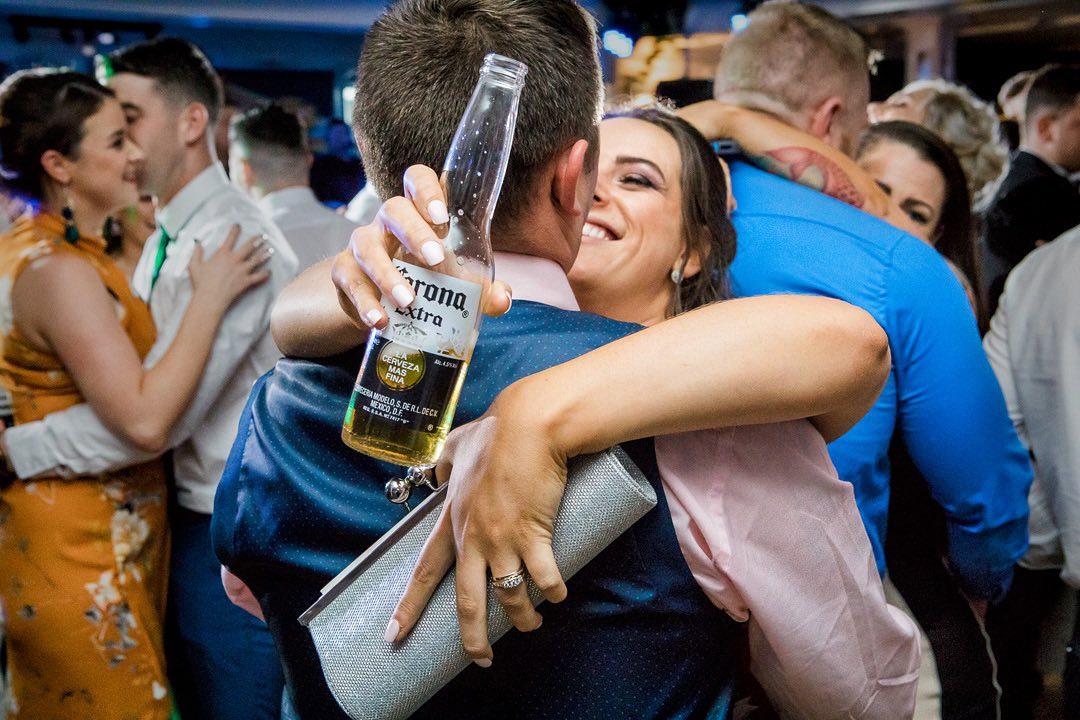 This page is a collection of advice and tips for weddings affected in any way by Coronavirus (COVID-19) which you will hopefully find helpful. It also answers some common questions and includes my cancellation policy (updated for 2021).
Firstly, if you are curious (or concerned) about what a wedding during these times is like then I'd highly recommend taking a few minutes to have a look at some of my highlights from 2020 weddings video. I photographed weddings from 6 people to 100 (depending on the restrictions in place at the time), with ceremonies in everything from small hotel rooms to cathedrals and receptions in marquees in the back garden, hay barns and hotels. They were all brilliant, and while there may have been less guests than the original plan they were just as full of emotion and fun as any other wedding – and often the smaller gatherings have made them even more special.
Getting married during the pandemic can seem like an unknown because even a year later it is so new. However, by adapting your plan and being flexible, you can have a great day. Each and every wedding I photographed in 2020 was a joy. Here is an evolving list of answers to questions from people planning their weddings during the coronavirus pandemic.
Are weddings still going ahead?
Yes. Even though in 2020 weddings dropped to 40% compared to the pervious year, people are still going ahead with their wedding and adjusting it to meet any restrictions in place at the time of the wedding.
Many are opting for a two-part wedding – with a ceremony now and a party down the line.
I'm stressing about how many guests I can have. Any advice?
The uncertainty of guest numbers is probably the most challenging part. Thankfully, with vaccination rollout, we are hopefully over the worst and the numbers allowed will steadily rise.
The best piece of advice I've heard from couples in a similar situation is to put together your guest list for 100, 50 and 25 guests in advance. Start with your closest family and friends, the people you can't imagine having a wedding without, and build up from that. There will still be uncertainty in terms of how many you will be allowed, but at least you will be prepared.
Also, don't worry about un-inviting guests – at this point everyone knows so it's not going to be a surprise and people are very understanding of the current situation.
Will my wedding be different with less people?
Yes, it will. How different it will be depends on what you original guest numbers were. For a lot of couples, one concern is that the room will look empty with less people however venues often have other rooms available that may suit better and also they sometimes can partition rooms and also add extra elements to the room to make it welcoming. I had a wedding in 2020 with 25 guests in a room that can hold 250 and by using a combination of these ideas as well as a bit more space between tables it worked out perfectly.
What about people who can't be there?
There are a few ways to include guests that cannot be there – whether due to number restrictions or travel restrictions.
Live streaming the wedding – you can hire a professional to do this or if there is a good enough network connection you can have someone use a laptop (e.g. Zoom) or their phone (e.g. Facebook Live) to stream it.
By using zoom (or other software) you can involve people in the ceremony, e.g. doing readings or playing music.
Share photographs using an instagram hashtag or WhatsApp group where people at the wedding can upload and people who can't be there can follow along.
Include them in your photographs by printing their photographs and putting them on their seats, or for people who are very close (e.g. family members) consider getting a life size cardboard cutout (which is more fun on the day than you probably think!).
Organising a socially distant visit after the ceremony to people who may be vulnerable or elderly.
Include a time slot in your timeline to call people who can't make it – often during the drinks reception you will have a little more time so you could use it to fit in a few excited video calls to those who can't be there.
Pre-recorded speeches or messages from friends and family for after the meal are always a great way to include people who can't make it.
Finally, you can post a token to your would-be guests afterwards. Maybe you already had favours prepared that you can send them? Or you could send a nice card with some photographs from the day, or some of your wedding cake, etc.
Can I have live music/makeup artists/hairdressers/etc?
With every announcement there are questions like this, because the restrictions/guidelines are constantly changing and they rarely have clarity at the time of announcement. However, based on experience, common sense tends to prevail. My advice would be to talk to your venue coordinator – even though the Irish Hotel Federation publishes its guidelines (which is its interpretation of government guidelines), not all hotels follow this exactly so it's best to pick up the phone and have a chat.
The same will apply on your ceremony location, for example, some churches will allow the bridal party not to wear masks as long as there is adequate distance.
In general, as long as it's safe for everyone, suppliers are happy to help with anything they can.
How will my wedding photographs be affected?
One of the biggest concerns I've heard regarding the wedding photography is what it will be like if everyone is wearing a mask. On the wedding day, I will not be asking anyone to remove a mask for photographs, however depending on the restrictions in place and the pods/bubbles your guests are part of, during the course of the full wedding day there will be plenty photographs of people's faces! 🙂
For example, during the ceremony you and your partner will positioned two metres away from guests. For the "official" photographs, e.g. your family photographs, I will photograph each pod/bubble separately (and generally outdoors if possible). During the rest of the day, there will be times when guests have masks on, but each church/hotel/venue will have their own guidelines. For instance, in many hotels, once the guests are in the private reception area they are treated as a bubble – masks are then optional but will still have to be worn when accessing public parts of the venue.
Even though your suppliers will be wearing masks, they are rarely in the photographs so you could potentially put together your entire wedding album without any signs of coronavirus. Having said that, my photographs will include the full story of your day and that will include you pushing through the hurdles and getting married despite these restrictions – however, whether you chose to use those photographs in your album to remember prevailing over the obstacles or not is up to you.
Finally, if you haven't already, I'd highly recommend watching this short video of some of my favourite moments from 2020 to give a better idea of what it's like to get married during the pandemic.
If you decide to cancel your booking, I completely understand. For all 2021 wedding bookings there is no cancellation fee (it is in your contract, but given the uncertainty it will not be applied). However, I kindly ask if you are considering cancelling to let me know as soon as you can. 2021 is in huge demand and freeing up your date might be really helpful to another couple. Thanks!
Will you still be in business by the time our wedding happens?
Yes.
Although it's been a difficult 12 months (and counting), I made the decision early on to ensure that I'm there for every wedding that is booked in. I'm not being paid a salary, I've cut my overheads as low as possible to get through and I've put together a plan with my accountant to ensure the long term sustainability of the business. When the time comes, I'll be there for you.
Are you raising your prices?
No.
The wedding industry (along with hospitality) has been the hardest hit by the pandemic, so with the increase in demand and a missing year of income to make up many suppliers are raising their pricing. However, for all my existing bookings I am honouring the pricing in your most recent contract for any reschedule dates up to 31st December 2022.
If my wedding cannot go ahead due to government restrictions, do I get my booking fee back?
If the government is not allowing weddings on your wedding date then your booking fee is refundable. If weddings are allowed to happen, but you choose to cancel then the booking fee remains non-refundable.
If I cancel my wedding, do I get my booking fee back?
No, as per your contract your booking fee is non-refundable. A booking fee is non refundable for two main reasons:
Firstly, it covers the cost of making the booking – this includes direct costs (such as the time to meet, phone, email etc, contract preparation, administration, etc) and an equal share of business running costs (such as insurance and so on). This ensures that even if every single wedding in a given year cancelled, the business would cover its costs.
Secondly, once a booking is made, all future enquiries for that date are turned away. By contrast, for example, if you paid a deposit instead the deposit could simply be returned if a better offer came along. However, a booking fee protects you by reserving the date for you alone – it protects you from other enquiries for the same date but on the other hand if you cancel then I'm left without work on that date.
However, depending on your wedding insurance, you may be able to claim your booking fee back – just let me know if you need documentation from me to process this.
If I postpone my wedding, can I move my booking fee to the new date?
If you are considering cancelling your booking and booking in a new date instead, please let me know as soon as you can because my calendar is much busier than normal and finding a date that works with all of your suppliers can take a bit of back and forth.
A booking fee is date specific – it's paid to book a date – so the booking fee is non-refundable (as per above). However, depending on your wedding insurance, you may be able to claim your booking fee back – just let me know if you need documentation from me to process this.
To book in your new date, I will need a booking fee for that date and a signed contract. For existing clients rescheduling to any date before 31st December 2022, I am honouring the older pricing quoted when they enquired in 2018/2019, therefore your new contract will be identical to your last signed contract (apart from the date). This means that you will be paying less than a new enquiry.
We've previously postponed and you gave us a discount, does this apply if we move again?
Yes.
While the booking fee has always been nonrefundable, during 2020 I offered people postponing their date a matching discount off of their final balance. If this applied to you, and you are now considering postponing again, this original discount still stands – as above, your new contract will be identical to the last signed contract apart from the date.
However, for new postponements from March 1st 2021, I can no longer offer this gesture as it essentially meant I was solely shouldering the cost of every cancellation which is not sustainable.
For all existing bookings, I am honouring the pricing in your most recent contract for reschedules to any dates up to 31st December 2022.
As with everything related to coronavirus, this information is subject to updates as everything progresses. My overall aim, as it always has been, is to do whatever I can to make the entire process as easy and enjoyable as I can for people getting married. During 2020, I gave discounts totalling almost €20,000 to couples who postponed their weddings. Personally, I'd love to have been able to continue to offer this, but as a business I've got to ensure that it's sustainable (which unfortunately it no longer is). However, I'm here to help. I'm happy to do whatever I can. If you have any other questions, or if there is anything else I can do, please let me know.