"A lovely fella to have around the house"

– Tony – Father of the bride in 2017, and again in 2020 (with a different daughter!)
Before getting into pricing information, it is really important that my photography style is a good match for what you are looking for. You can read more about my photography style here, but the short version is that I aim to tell the real story of your wedding day in a documentary/reportage/natural way. Apart from the family and bridal party photographs my aim is to be invisible!
STOP here if you are looking for more traditional wedding photography or a lot of posed photographs – there are much more suitable photographers for you and I'm happy to recommend some.
CONTINUE if a stealthy ninja photographer sounds right up your street….
I like to keep things simple. I've got one package – I'm there to cover your morning preparations, your ceremony, families and bridal party photoshoot and the drinks reception up until your guests sit for their meal. From that point on, it's up to you – I've a simple hourly rate so I can stay for the speeches, dancing, a sunset photoshoot outside, sparklers, fireworks – whatever you have planned.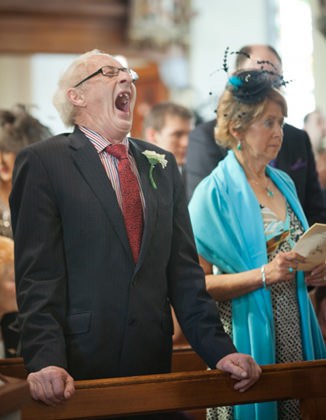 "A huge THANK YOU! You really put us at ease. Every single person commented on how lovely and polite and friendly you were, and also how you seemed to be about 3 places at once!"

– Grace & Billy – Cloughjordan House – 2021
My approach is 95% documentary – a relaxed, fly-on-the-wall, authentic recording of your day. The other 5% is family photographs (the only time I ask anyone to look at me!) and the bridal party photoshoot. I give a little bit of guidance when it comes to the bridal party "portraits", but my aim is to keep it fun and easy (and quick so you can get back to your guests!).
If you haven't already seen my annual highlight videos, I'd highly recommend you take a few minutes to watch one of the below (or 2018, 2017, 2016, 2015, 2014 or all the way back in 2013!).
If watching these makes you feel something, then we're probably a good match.
2020 Favourites – Includes COVID weddings
2019 Favourites – Before COVID weddings
"You have an amazing talent for bringing out and capturing the biggest and most natural smiles in everyone from those aged 4 to 97 and you even managed to get our dog's best side!"

– Liana & David – 2021 – Armada Hotel
€2200
Includes all of the following:
Up to 8 hours of coverage, from preparations through to the bell for your meal
An online highlights slideshow set to music
A beautiful 10"x10" Wedding Album in a choice of cover options showcasing 60 of your favourite photographs
Private online viewing gallery which can be shared with family and friends
Unlimited email support in the run up to your day – I'm happy to help in any way I can with the planning process (I've been to A LOT of weddings!!)
Extended Coverage ~ €100/hr
After 6pm, I'm happy to stay as long as you need me. Just a few speeches before the meal? An hour will cover it. Epic dance floor moves – count me in! Photographs outside during sunset? Amazing!
Each additional hour also includes two more pages in your wedding album.
Same Day Slideshow ~ €150
If I'm staying until dancing, the same day slideshow is an option. It's a projected slideshow of the highlights of your day so far presented just after dessert. You get a preview of the photographs and it also goes down a treat with guests.
Digital Files ~ €350
All of the processed photographs (typically between 500-700 depending on the coverage) from your wedding ready for printing without watermarks or logos.
Larger Album Upgrade ~ €200
Upgrade your wedding album to a larger 12″x12″ Album.
Mini Album Copies ~ €300 for 2
These albums are an exact duplicate of your wedding album in a slightly smaller 8″x8″ size. These are very popular as gifts for parents.
Pre/Post Wedding Session ~ €350
A two hour, relaxed, informal photo session at a location in Limerick/Clare. This is often used for invites, personalised guest signing books, signing mounts, thank you cards, etc. Before the wedding it's a great way to get comfortable in front of the camera and get some amazing photographs. And after the wedding, it's a good excuse to wear the dress again and go somewhere dramatic – or even just get some outdoor photographs if it was raining on the wedding day!
Thank You Cards ~ price depends on quantity
Beautiful, photo quality thank you cards customised to feature the best images from your wedding.
Wall Art ~ price depends on size and finish
A range of wall art options are available in different sizes on a variety of finishes (such as canvas, acrylic, aluminium and wood).
"A huge THANK YOU! You really put us at ease. Every single person commented on how lovely and polite and friendly you were, and also how you seemed to be about 3 places at once!"

– Grace & Billy – Cloughjordan House – 2021
Booking Fee ~ €400
The booking fee is €400 which secures your date. This is deducted from your total.
Signed Contract
A standard contract stating who I am, who you are, what date you are getting married, the location, terms, conditions, etc, all the usual stuff.
"Thank you so much for today. I was nervous about having a photographer in the house this morning but you were great."

– Mary – Mother of the bride – quickly left every room of the house I walked into!
What are the photographs like?
2020 Favourites – Includes COVID weddings
2019 Favourites – Before COVID weddings
"I almost felt an emotion."

– Sean – macho groomsman – after seeing the same day slideshow (possibly the greatest compliment I've ever received)
What's it like having me as your wedding photographer?
Here are some real testimonials from past couples about what their experience with me was like. The first one is a summary of all three underneath.
You made it to the end! I'd love to organise a chat with you about your wedding plans. Just get in touch to organise a time that suits and we can talk through your plan and I can show you some samples of the albums available and answer any questions you might have.