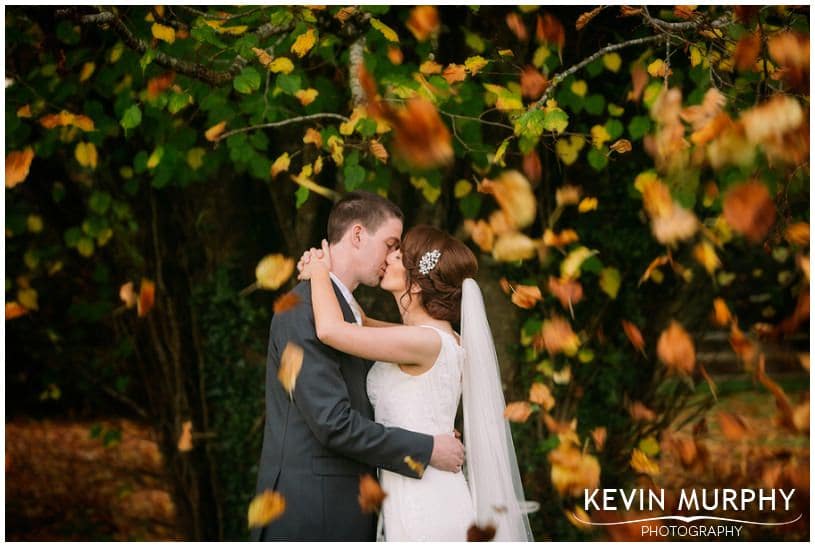 Jenny and James were married in Athlacca church and held their reception in Springfort Hall. I had photographed James' sister Trish's wedding a few years ago so it was great to meet up with their family again. When I met up with Jenny and James to go through the plan for their wedding they had two interesting things on their list – the first was to get a photo with the huge tree on the lawn outside Springfort Hall which was full of Autumn colour. When we arrived the sun was just setting but there was a tiny sliver of light still falling on the tree – phew! The second thing was to incorporate radiography (which Jenny works at) and chickens (which James works with). You'll have to scroll down to see the results of that! 😉
Here are some things I loved about Jenny and James' wedding:
An unexpected slap on the bum.
Liam Óg getting to be a grown up for the day and Mary Kate being a flower girl for the FOURTH time!
Gary's reaction to Jenny coming down the stairs in her wedding dress.
CHEWBACCA!!!!! (Saying "cheese" for photographs is so last year!)
The most talented collection of hurlers in a receiving line I've ever photographed.
Beautiful, crisp, golden Autumn light. (The photographer nerd in me was doing a happy dance!)
Siobhán – where do I even start?! 😉
The A-team entrance music.
The groomsmen chicken dance!
Here is a small selection of some of my favourite images to give you a taste of their wedding day…