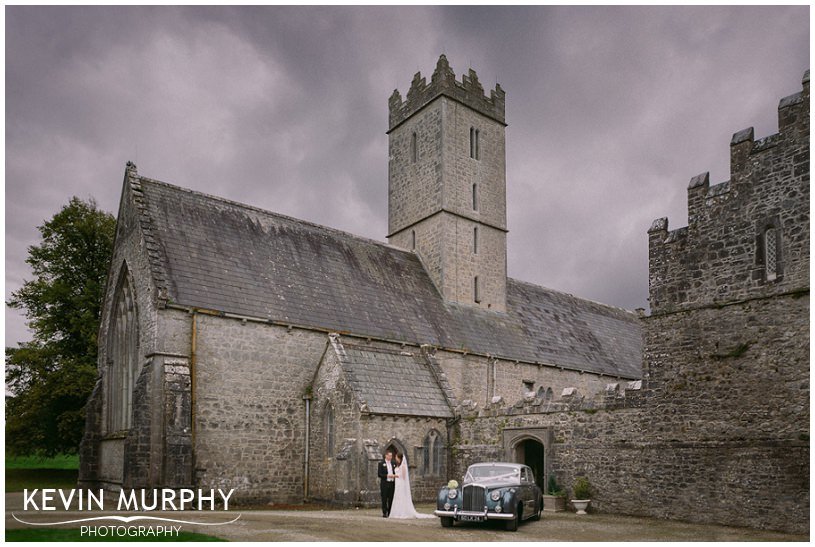 Fiona and William were married in the Holy Trinity Abbey Church in Adare and held their reception in the Dunraven Arms. William is an accountant so rather than wearing a suit just like every other day, they decided to have a black tie wedding. It was a lovely touch and it added a bit of novelty to their day too. It was a great wedding, with a very relaxed vibe and a lot of fun – from the speeches to a singing waiter to the craic on the dance floor.
Here are some things I loved about Fiona and William's wedding:
Fiona explaining how because she has big hands she needed a big rock!
Bertie, the cat, sleeping peacefully in the bird feeder.
Black bridesmaid dresses – unusual, but perfect for a black tie wedding.
Deirdre, undoubtedly the best bridesmaid ever. (Yes, she made me say that.) She also asked me to plug her newly launched Hire-A-Bridesmaid service – perfect for brides who do not have any sisters, or friends!
I don't watch Game of Thrones, but I had to laugh when I was told that when I closed the doors of the church once Fiona and William were married that it was like the "Red Wedding" episode of GoT where all the guests were massacred. Sorry if I gave anyone a fright!
With the ceremony and reception so close together, William was determined to get a spin in the vintage car, so we got to go on a short adventure to the abbey.
A random tourist helping us out on the photoshoot! Thank you!
The wedding cake.
Fiona and William's addictive sense of humour.
William finally finding someone to cook his dinner on Thursday and Friday. That's the whole week sorted!
Here is a small selection of some of my favourite images to give you a taste of their wedding day…