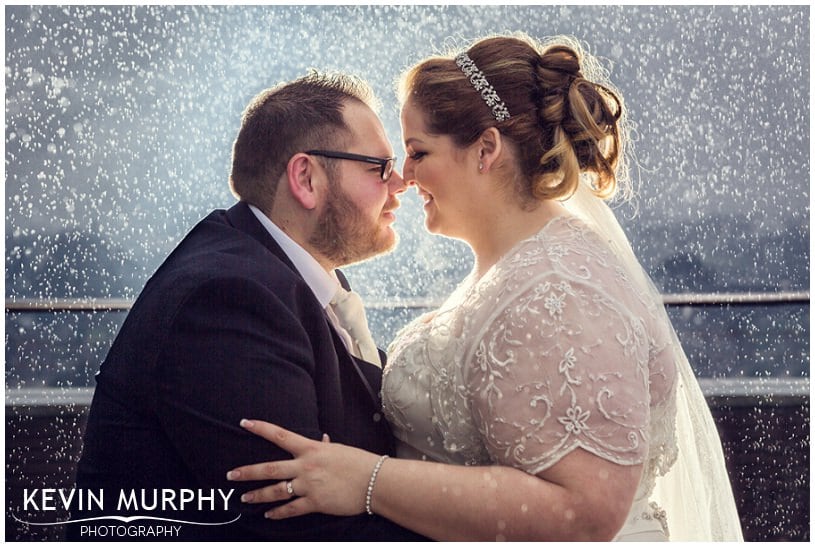 "What time is it?" was how it all started. An Irish girl sitting on a bench in New Zealand next to a local boy. Fast forward to a rainy winter day in Ireland when Kerri and Jono, now joined by their son Hudson, tied the knot surrounded by family and friends.
Some things I loved most about Kerri and Jono's wedding day were:
The high spirits in Niall Colgan's that morning as the girls got ready.
The groomsmen sampling the mystery drink Jono had included in their hip flasks!
Kerri's brooch bouquet which was made from brooches from her closest friends. There were even a few birds in there. 🙂
Kerri taking time out on her wedding day to just sit on the floor and play with her son.
Hudson's sign for Jono as he was carried up the aisle by Yvonne.
Having another photographer on hand to help out – thanks Eva!
A bride and groom that were happy to go outside in the rain (and dark and fog) for photographs. Thanks guys!
Two of the best, most handsome violin players ever! Canon in D never sounded as good.
The New Zealand contingent – what they lacked in numbers they made up for in enthusiasm, friendliness and a pinch of madness!
Kerri and Jono's big announcement at the end of their same day slideshow.
Don and Kerri's dance.
Some kind words from Kerri and Jono…
You are an amazing photographer, we're very lucky you were recommended to us. It didn't feel like there was someone in your face – it felt like you were a friend laughing and sharing in our day with us. We're very grateful Kevin, thank you.
Here is a small selection of some of my favourite images to give you a taste of their wedding day…