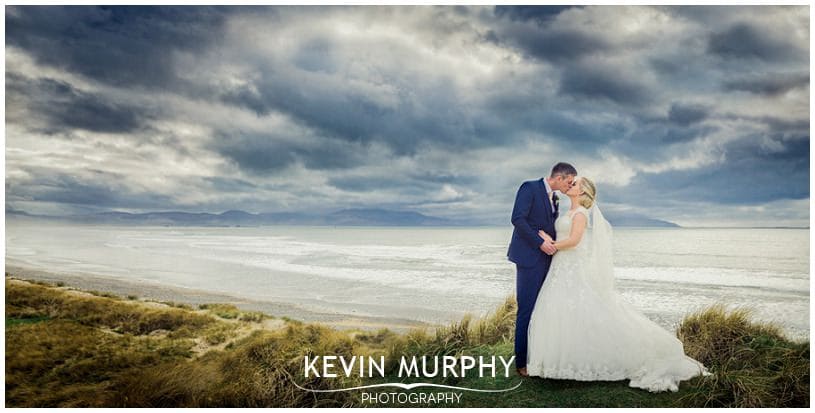 Tara and Stephen travelled all the way home from Sydney to get married. They had their ceremony in Newcastle West church and from there went to Ballyroe Heights Hotel in Tralee for their reception. We made a quick stop at the windiest beach we could find to take some photographs – it wasn't as warm as Sydney but it looked just as good!
Some things I loved most about Tara and Stephen's wedding day were:
The groomsmen stepping up to the challenge of folding the pocket squares. 😉
The first ever father of the bride jewelled dressing gown. Equality – finally!
Tara's sister Tessa and Stephen's brother Mike skyping in from Australia for the ceremony.
The church music Trevor and Sharon – I loved their take on some modern songs.
For Chris' sermon – the only priest I know who could come up with a sermon for a wedding based around Coca Cola and Anne Frank!
Climbing to the top of that sand dune – totally worth it! Nobody said it was going to be easy!
The speeches – especially Liam's story about their surprise trip and Noel's story about the word of God! 😉
Some kind words from Tara and Stephen:
Kevin thank you so much! The pictures are amazing, as was the slideshow, thanks for including Tessa, Lily May and Mike, that was lovely!
We barely noticed you were there and you were so easy to deal with!
Here is a small selection of some of my favourite images to give you a taste of their wedding day…