Loving… a happy ending. My good friend and incredible architectural photographer Iñaki Hernandez posted the following message on Facebook:

As a photographer, it's an amazing feeling when the shutter opens and you know that you've just captured something special. What had Iñaki seen?
"Beautiful atrium at the Milwaukee Art Museum. Valentine's week. A guy walks to the end of it with his girlfriend exactly across from me and no one else around, just the two of them. He goes down in one knee and proposes. She says 'yes', they kiss, hold hands and walk away. Shot in the bag. Special or what??? :-)"
And here's the photograph. Amazing, right?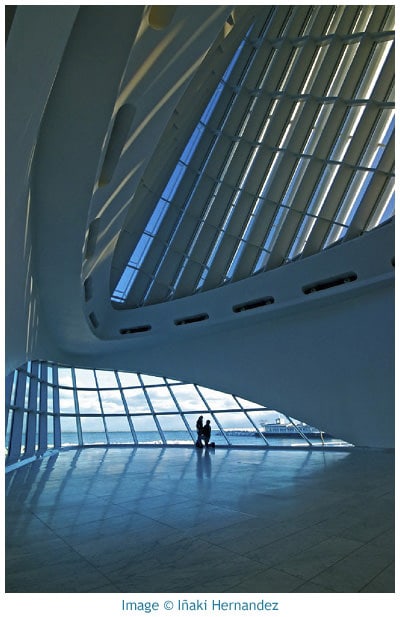 What are the odds of somebody proposing right in front of a world class photographer and having a beautiful photograph like this showing that moment? It's incredible. Unfortunately, by the time Iñaki had checked his exposure to make sure that everything had come together as well as he hoped the couple had disappeared!
Thankfully the story doesn't end there. Iñaki contacted the local radio station in Milwaukee and less than 3 hours later the couple had been discovered! I love it when a plan comes together!
You can see more of Iñaki's images of the Milwaukee museum on his architectural photography website.
Laughing… at this!