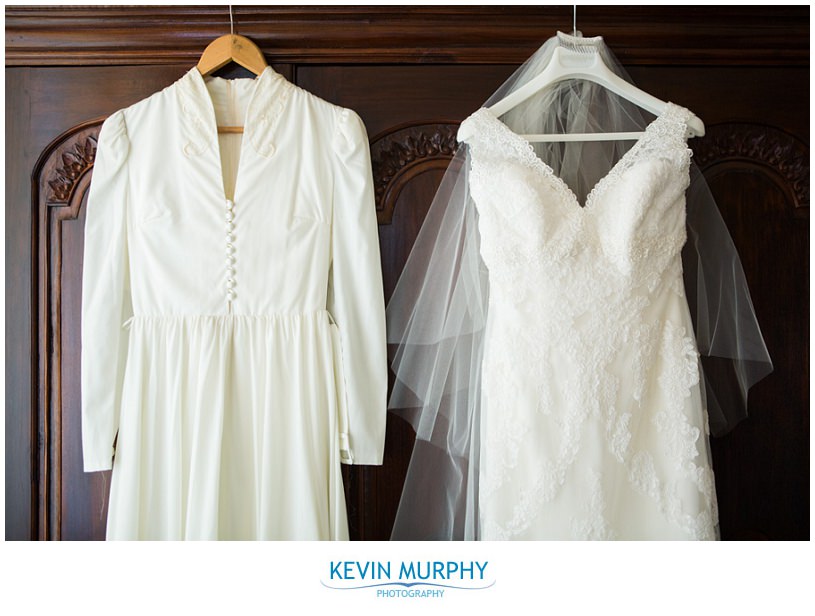 Helen and Shane's wedding was one that I had been looking forward to and it really lived up to my expectations! It was a great day. It started in Mitchelstown where Helen was getting ready in her home with the girls. The ceremony took place in the beautiful Ballycotton church above clear blue water and beneath beneath clear blue skies. We popped into the grounds of the Bay View Hotel for some photographs with the bridal party before moving onto the Garryvoe Hotel for their reception.
Things I loved about Helen and Shane's wedding were
Helen's wedding dress hanging beside her mother's wedding dress when I arrived. Genius.
Clair, who was a super bridesmaid for Olivia, was back in action keeping the show on the road! 🙂
The weather was amazing. (Well, from a photography perspective it was challenging, but I'm not going to complain about cloudless skies!)
The best man speech was hilarious. It was one of the best written speeches this year. It had the guests (and me!) in tears of laughter.
Helen's "something blue". She had caught her finger nail in a door the week before the wedding. Ouch!
How welcoming both families were. The Nolans gave me free reign of their gorgeous house to find little details and locations with nice light. I could have photographed there for hours.
Finally, Helen and Shane who were a joy to work with. Relaxed, fun, trusting, appreciative – an all around great couple. Thanks for having me!
It was difficult to narrow down my favourites, but here are a few to give a taste of their wedding day…