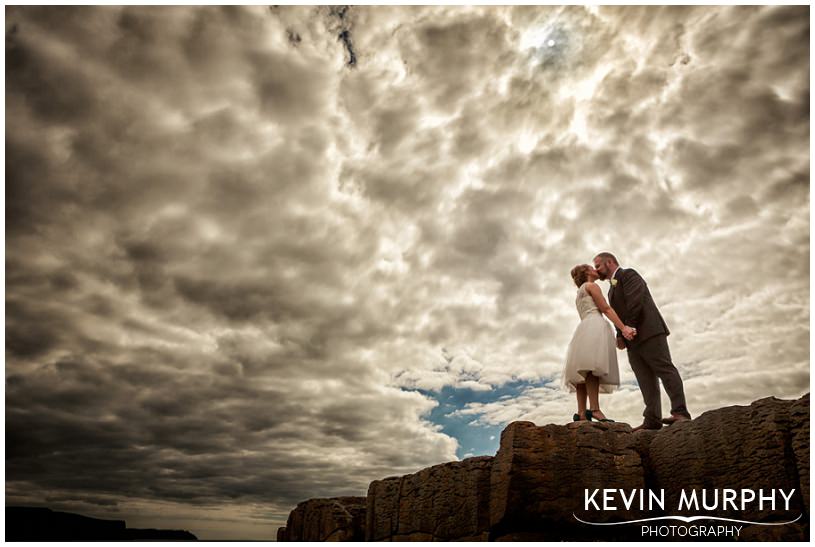 Tracy and Seamus' wedding day surpassed my expectations – and I had high expectations! When my wife asked how their wedding went the only way I could describe it was like it a comedian convention with a marriage thrown in for good measure! I can't remember the last time I laughed as much. The witty one liners as the guys were getting ready, the funny stories the girls were sharing that morning, Tracy's dad's jokes when we went taking photographs down at the pier, Colm's speech, in fact all of the speeches… it was nonstop! (In fact, you can see people literally wiping tears from their eyes during the speeches below!)
Things I loved about Tracy and Seamus' wedding:
Everything happening in one location – Hotel Doolin – the preparations, the ceremony and the reception.
Seamus trusting me to bring along some of his Lego Star Wars collection. It made for one of my favourite wedding ring images ever.
They had a sand ceremony, but to make it even more personal they went and got sand from the beaches they used to go to as children. What a great idea.
Tracy's that's-what-she-said moment during the vows – I've sworn to Tracy I wouldn't repeat what she actually said, but it was very funny!
A random passing kid joining the traditional musicians with his ukulele! He even had his eyes closed for added emotional impact! 😉
Getting down to the coast with the bridal party and getting a great sky to work with.
The Siege of Ennis. It started perfectly (after a little tutorial from the band) but it was chaos within minutes!
Some kind words from Tracy & Seamus:
Thank you so much for all the hard work you did in Doolin. We had a fantastic day and we are so glad that you were there to capture it. All our guests were raving about the photos from the sneak peek that evening. A great day was had by all helped in no small amount by your friendliness and professionalism. From the first meeting we knew that you were the right person for the job. You have a fantastic talent.
Here are some of my personal favourite photographs to give you a taste of their day…