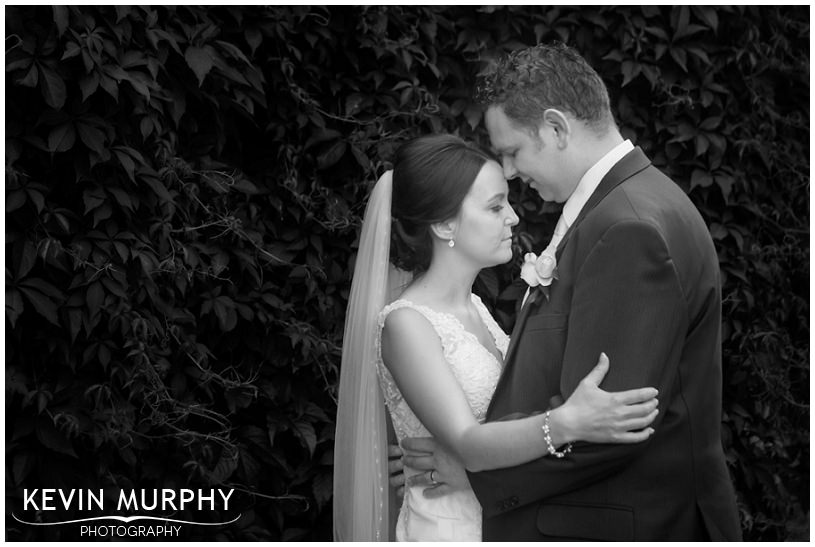 Occasionally I like to do weddings that are a bit further away. It's nice to go to new locations, meet new people and find nice places to take photographs. When I first met Amanda and Ronan way back in early 2013 I loved their story and their plan for their wedding. They have been going out with each other FOREVER and they had loads of little personal touches during the day. The fact that Ronan is a talented cabinet maker was an advantage!
Their day was jam packed. Usually there is only time for one pit stop for photographs, but we managed to squeeze three in! Firstly, it was across the road to the most fascinating pub/grocery I've ever been in – whether you wanted a pint of Guinness, lawn seed or 10 litres of white emulsion paint they had it all! After that, we went to Ronan and Amanda's house to see their precious pet dogs and finally we went to Woodstock Gardens – phew!
Things I loved about Amanda & Ronan' wedding:
Amanda's Mum's wedding dress hanging side by side with Amanda's dress.
The note Ronan sent Amanda that morning. It was emotional!
The hospitality in Amanda's house that morning. Honestly, it was like I was a long lost friend. In fact, I soon found out it was easier to just accept everything I was offered because if my hands were empty I was going to be offered again within ten seconds!!
Ronan's handiwork – from the candle holders in the church to the table plan and cake stand at the reception. He was busy!
Chasing after Amanda and Ronan in their golf cart! If I'd know how far away we were going I wouldn't even have considered it! It was very funny though. Thanks to Noel, the videographer, for giving me a lift for the second leg. 😉
Kenny's speech. It was the most honest, natural speech ever (probably because he forgot his notes!) and it was hilarious.
The singing waiter. He went down a storm, not to mention Ronan's solo finale!
Some kind words from Amanda & Ronan:
It was a pleasure to have you capture the special moments from our big day. I always knew that I wanted an easy going approach to taking our photos but little did I think that seeing the photos on the slide show would be one of the highlights. Everyone absolutely loved this part of the day and they're still raving about it! Numerous people have said how lucky we are you have you as our photographer and I couldn't agree more.
Here are some of my personal favourite photographs to give you a taste of their day…