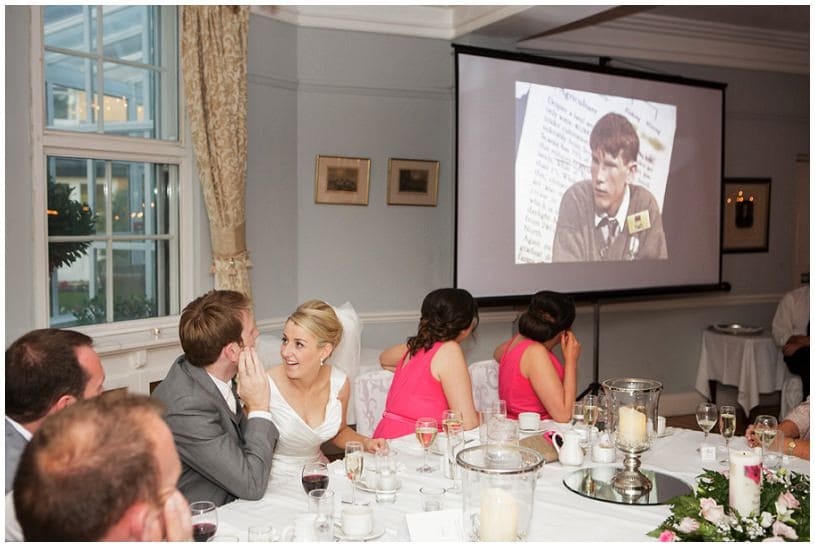 A few weeks before Niamh and Paul's wedding I got an intriguing top secret email from Niamh. It turns out Paul was a contestant on Blackboard Jungle when he was younger. Now, I know I have a lot of American readers of this blog so I must first explain what "Blackboard Jungle" is… Let's just say in the 90s it was the biggest national televised quiz in the country. It was a pretty big deal. In fact it was such a big deal it was hosted by Ray D'Arcy (the Irish equivalent of Oprah). 🙂
Anyway…. Niamh managed to get her hands on a copy of the broadcast from the RTE archives. I edited it down to a "Best of Paul" shortened version and somehow, against all odds, it managed to stay a secret until the wedding day. It was hilarious! Luckily, Paul is a smart guy and really picked up his team in the rapid fire buzzer round. It was definitely one of the highlights of the day!
Things I loved about Niamh & Paul's wedding:
Working with Val and Rachelle on hair and makeup again – they're like a dream team!
The relaxed vibe in Niamh's house that morning and the funny comments – when the girls were getting Niamh into her dress they were wearing a white cotton glove to keep it clean. They cracked me up with their Michael Jackson jokes!
I'm lucky enough to be the photographer for Niamh's brother Brian's wedding to Ashling next year too so it was great to get to know their family a little better.
Cratloe church. It's such a lovely, intimate place to get married.
The guests cheering every time Paul got an answer correct on Blackboard Jungle. It was on par with the excitement of the 1990 World Cup Ireland vs Romania penalty shoot out!
Some kind words from Niamh & Paul:
"We can't thank you enough for everything! It was a pleasure to have you in the house that morning you were so discreet and fitted in so well throughout the day. Numerous people came up to us throughout the day and commented on how brilliant you were. Paul is thinking of starting a Kevin Murphy fan club page on Facebook you had so many fans :)"
Of course, I do have a facebook page
here
if you do want to keep track of me! Here are some of my favourite images from their wedding day…