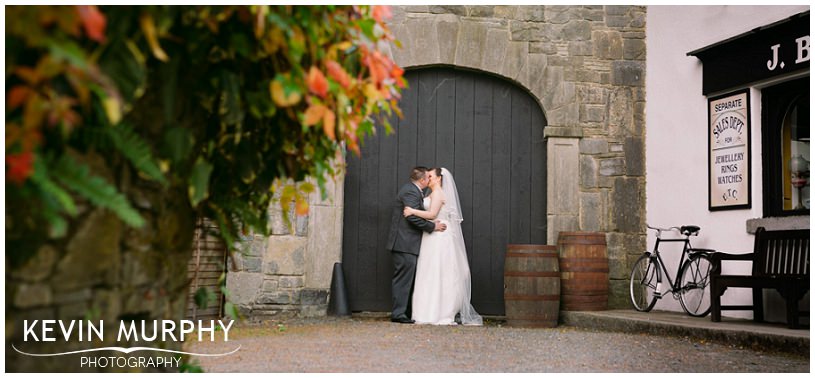 Gemma and Colin were married in Monaleen church and held their reception in the Bunratty Castle Hotel. Colin is a bit of a romantic and swept Gemma off her feet by taking her to the Hurlers Bar on their first date! 😉 They are a sweet couple and their wedding had a sweet theme, with a sweet table, sweets on their cake and sweet centrepieces.
Things I loved about Gemma & Colin's wedding:
If there was an award for being laid back, these two would be world champs! I don't think anything would faze them.
Gemma is very close to her grandparents and it was lovely to see her grandmother helping her get into her wedding dress.
One guest, just for the fun of it, dressed up as John Travolta from Grease! It was based around a surprise guest appearance from the man himself at Gemma's hen party. 😉 A few jaws dropped when he first appeared, but Gemma just smiled and said "I love it"!
Both Gemma's step dad and her grandfather walked her up the aisle, swapping half way.
Mons. Dan's comment that their mothers were like twins!
Clive, Best Man Extraordinaire, who doesn't drink but went along with it when I got all the groomsmen to make use of their hip flasks – sorry again!
Colin's speech which was equally touching and very funny.
Some kind words from Gemma & Colin:
"Thank you so much for everything you did for our wedding.  You were so easy to have around (even during the couple of stressful moments while we were getting ready!).We cannot wait to see all of the photographs, the slideshow you did on the night was amazing!  Everyone commented on it and said they can't wait to see the rest when we have them.  All of the wedding party loved working with you as well, they couldn't believe how easy it was to have the photos taken.  A few of them don't particularly like having their photo taken so were dreading that part of the day but they were said it went so smoothly and quickly that they didn't mind it at all."
Here are a few of my favourite images to give you a taste of their wedding day…