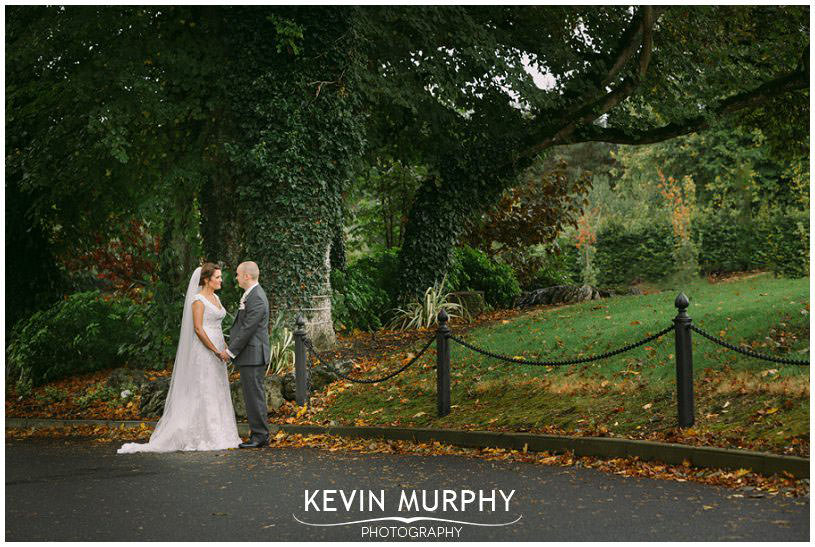 Emily and Bernard were married in The Wells Church and held their reception just over the road in the Bunratty Castle Hotel. The day got off to an early start with Bernard and his groomsmen going to Calvin Arthurs Barbers in Shannon for hot towel shaves. Meanwhile the girls were getting ready at home with Val O'Dea and Rachelle Guiry looking after hair and makeup.
During the hot towel shave, your face is completely covered with a hot towel with only your nose left free for breathing. I'd imagine it's pretty relaxing. But NOT when somebody decides to give you a "wet willie" (if you don't know what that is, the dictionary definition is "The act of moistening one's finger with one's own saliva, and inserting said finger into another's ear canal"!). I'm not going to name and shame the culprit, but the list of suspects is pretty short!
Emily and Bernard are two of the nicest, friendliest people you could meet – they are well matched! It was a shame the weather was so rainy on their day – a far cry from their engagement in Sicily, that's for sure. Luckily, we got a break in the weather for a few minutes so we managed to get outside for some photographs on the grounds of the hotel. Phew!
Things I loved about Emily & Bernard's wedding:
The craic at Calvin Arthurs. It was a really nice chilled out start to the day.
Oscar the dog! He's probably still recovering from all the excitement!
A counterfeit Child of Prague statue. 😉
Emily's relationship with her parents, there were so many tender moments – and that was before we even left the house.
Even though it was raining, there was something nice about people sharing umbrellas, gentlemen offering their jackets and people huddled in the shelter chatting.
How happy Emily and Bernard were during the ceremony – when I was looking back over all the photographs from the day I realised I was smiling to myself.
The flowers – from the bouquet to the cherry blossom tree table plan to sprigs of lavender on the table settings.
The singing waiter Emily had organised as a surprise for Bernard. It went down a treat!
Gerard's speech, which had the best closing line I've ever heard!
Some kind words from Emily & Bernard:
"We are so grateful to you for being so wonderful on the day. You were so discreet and unobtrusive in the morning and I am so glad you pushed us to take some outdoor photos after the church because when the slideshow went on and we saw a peek of those photos, I was chuffed!! Thank you 🙂
We had many friends and family comment on you and your work and  we will be recommending you to one and all. "
Here is a quick selection of a few of my favourite images to give you a taste of their wedding day…