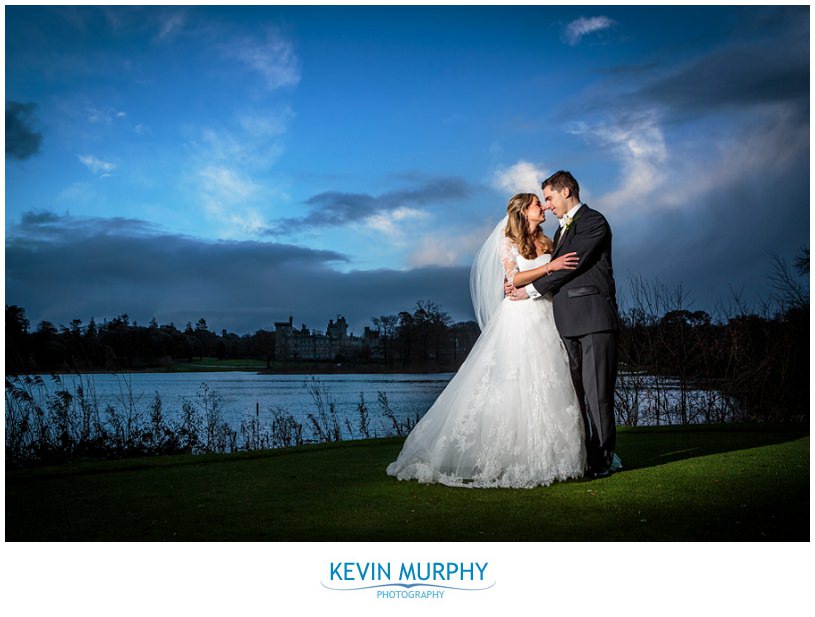 Noelle and Cian were married in Raheen Church in Limerick and held their reception in  Dromoland Castle in Clare. Remember those crazy storms we had just after Christmas with all the flooding and chaos? Well, their wedding was in the middle of that! It didn't dampen the spirits on the day – it was one of the most emotional weddings I've had the pleasure of photographing. Noelle and Cian met way back in secondary school when a boy asked a girl to go out with him. The boy obviously knew what he was doing because ten years later they are stronger than ever and their wedding was a real celebration of that.
Things I loved about Noelle and Cian's wedding:
There's something a little magic about Christmas weddings. Maybe it's all the fairy lights! I think there's a lovely warmth and cosiness to it and that was definitely the feeling at Noelle and Cian's wedding.
Cian's expression as Noelle walked down the aisle and his reaction to seeing her. It was a hugely emotional moment.
Having both of their mothers light the candles at the beginning of the ceremony was a lovely touch, as was having their grandparents bring up the gifts.
Going to the walled garden to take photographs even though it was flooded and windy and cold – but it was so much fun. 🙂
After Noelle threw her bouquet, Cian (who is a great rugby player) threw a rugby ball with the words "you're next" on it into the crowd of guests!
The speeches. How do I describe them. They were the most heartfelt speeches ever. So tender and thoughtful and thankful. I'm pretty sure there wasn't a dry eye in the house!
After the speeches we photographed all of the guests grouped by the month they were born in. 12 photographs which will make a really great calendar.
Here's a little taster of their day…