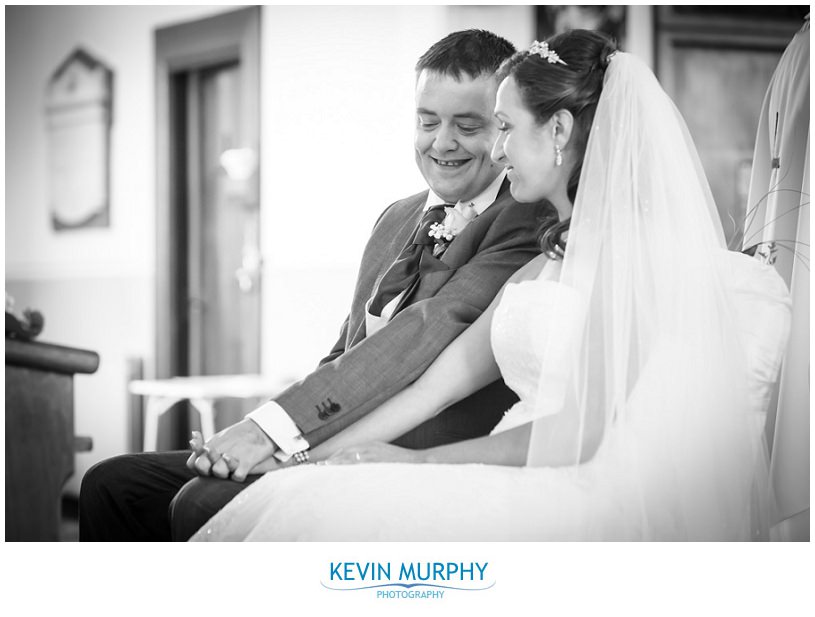 Bridget and David were married in Ardagh Church in Co. Limerick and had their reception in the Brehon Hotel in Killarney. I'm often asked for advice by couples on the lead up to their wedding and one thing I always say is that there's a good chance that not everything  will go exactly to plan, but to just roll with it and enjoy the day. All kinds of things can happen on a wedding day. The weather can suddenly turn nasty in the middle of taking photographs of the bridal party. The wedding car could get a punctured tire. A groomsman could end up in hospital (so you need to find a friend who is the same size to fit the suit!). Traffic could be totally gridlocked on the way to the hotel so everyone is sitting in traffic for 20 minutes. The wedding dress could prove more difficult to tie up than imagined. Unfortunately, ALL of these things happened on Bridget and David's wedding day! Crazy! But I was so impressed with how they rolled with it, laughed at it and continued to enjoy their day with a smile on their faces. They are an amazing couple.
Things I loved about Bridget and David's wedding:
Their laid back, happy go lucky approach to the day
The friendliness at Bridget's house that morning. I've often been offered a cup of tea when I arrive at the brides house, but it was my first time being offered a full Irish breakfast!
The craic and stories while Catherine helped Bridget get ready. Hilarious!
When Bridget walked out into the kitchen and her family saw her dressed for the first time. It was emotional.
The flower girls. I think they had more fun than anyone that day!
The personalised Smarties wedding favours (which had their faces printed on them!)
One flower girl diva taking over the singing duties from the band.
Here's a little taster of their day…