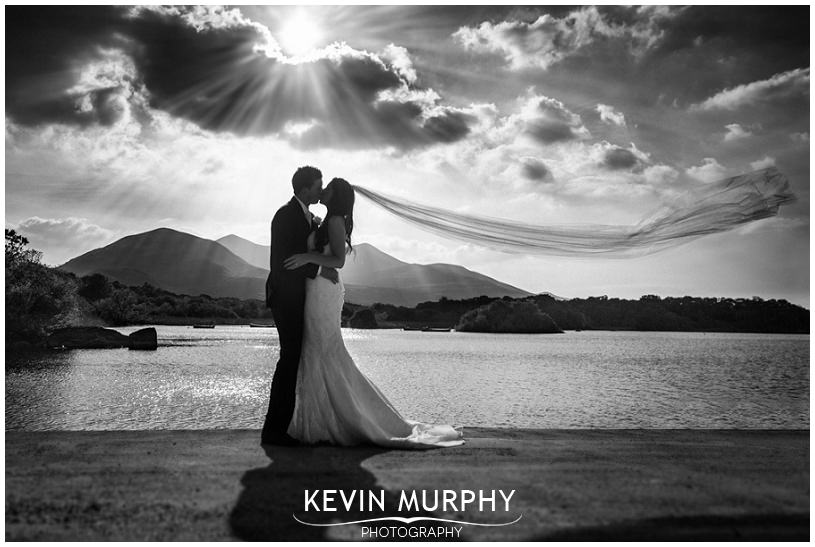 Kim and Dave were married in St. Mary's Cathedral and held their fun filled reception in the Brehon hotel in Killarney. The girls got ready that morning in Pat O'Neill's style suite in the Brehon hotel and the guys got ready in a house nearby so I was able to visit both that morning which was great! The sun was shining, the sky was blue and the style was out in full force!
Things I loved about Kim & Dave's wedding:
The atmosphere in Pat O'Neill's style suite that morning. It was so relaxed and chilled out and but with a lot of laugh-out-loud moments too!
Zack and Mathew, the two page boys, were very entertaining – from trying to tickle my camera with a feather they had found to having a good old brotherly brawl during the speeches!
The music during the ceremony – even though I lost a lot of macho kudos when I was chatting to the musicians about a song I had recognised and it was from Love Actually!
The location we had planned to use for the bridal party photographs in our initial meeting 2 years ago didn't work out BUT we found somewhere even better.
The love quotes at each of the tables at the reception.
The speeches! There were some great stories told, with the culprit of moped incident of 2001 finally revealed! 😉
Having my camera borrowed by some guests on the dance floor to get a photo with me in it – definitely a first!
Some kind words from Kim & Dave:
"From the moment I met you 2 years ago to the last second of the evening of our wedding it was nothing but a laid back cool approach but with complete and utter professionalism – I don't know how you manage to get such a good balance. You felt like part of the wedding that day, snapping away quietly and then guiding us for every other photo to make sure that we got the best we could get for our pictures.

We really enjoyed your company on the day as did everyone else, we adored your slideshow and everyone was raving about the quality and how fab it was to see it play out.

Can't wait to see the final pictures!!"
Thanks a million to Kim and Dave for having me there to document a great wedding. Here are a few of my favourite images to give you a taste of their wedding day…