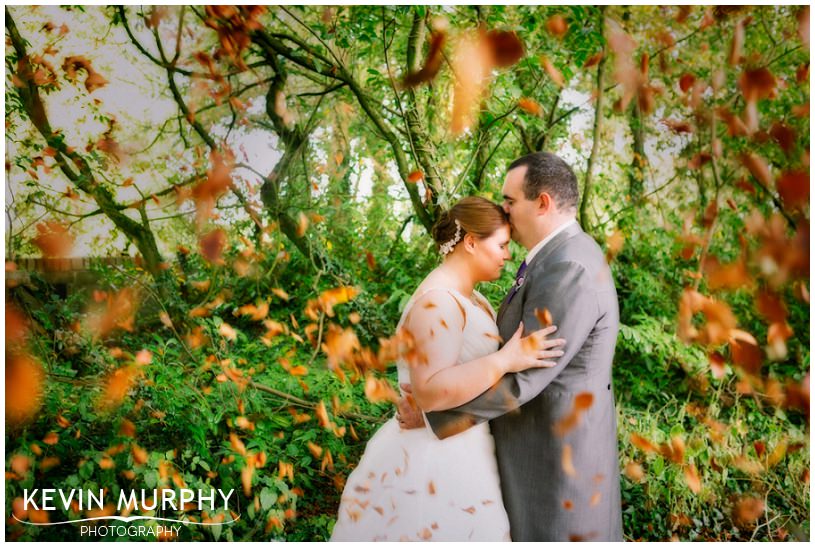 Elaine and Ray were married in Newtownshandrum church and held their reception just down the road in the Charleville Park Hotel. After a quick stop in Herlihy's pub (of course!), we made our way back to Elaine's house for the bridal party photographs. The garden was full of Autumn leaves (especially imported for the big day!) and the driveway looked amazing with the evening light flowing through it.
Things I loved about Elaine & Ray's wedding:
The chilled out morning at Elaine's house. Super relaxed and 100% natural – I knew it was going to be a good day within minutes of arriving.
The button bouquet, which had loads of little personal details in it.
Mary Kate, who could turn professional as a flower girl at this stage – she was also flower girl for Trish and Dan's wedding – and Michaela (who was "just mad" according to Mary Kate!)
Fr. David (who is Elaine's uncle) was great – not just with having the personal touch of somebody who knows the family well, but also with being relaxed when the inquisitive flower girls wanted to see what was going on up around the altar!
The flower girls applauding the music in the church! 🙂
The tractor. It was first in terms of wedding transport, that's for sure. Thankfully the weather was good for it!
Cutting the cake with a chainsaw – again, definitely a first – and probably a last too!
Some kind words from Elaine & Ray:
"Thanks for all your help on the big day. You made the pictures hassle free which was great. Everybody loved the slide show after the dinner and are still talking about it. The disappointing bit was that Molly the dog got a bigger cheer than we did! I think that says more about the crowd there than the picture! :)"
Sadly, Molly the dog has since passed away… but I'm glad to have a few photographs that she can be remembered by. A huge thanks to Elaine and Ray for having me there to document their wedding. Here is a quick selection of a few of my favourite images to give you a taste of their wedding day…